November 18th, 2018
Today will be a good day. Happy Yogi day everyone.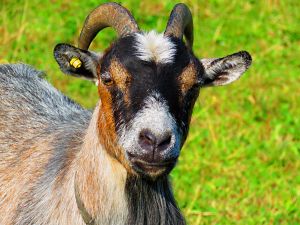 13/11 2018
—
.
Good goat times today. Mostly darkly day, but at least it stayed pretty dry while I was out. I decided to give grandma Mio another chance, give her the chance to show me that she could behave and -smash cut- there I am fighting my way through another thick jungle chasing grandma. Yeah yeah. It's the leash for grandma in the future I'm afraid.
This time it was behind the bleacher and soccer/basketball pitch. And I did not know what was past the thicket behind that. So I wasn't too happy when she darted into the undergrowth. She may be wide, but she's not very tall. It's hard for me to follow in there, ducking under branches, snapping and cracking everywhere.
Turned out we ended up on the parking lot of the residential neighbourhood next door. Oh dear. I wasn't too happy with that, so I tried getting them over to more familiar territory. So there I was, trying to drag grandma across the parking lot. She was having none of that. Haha. An old lady came walking by with one of those shopping trolleys. "They do say 'stubborn as a goat'! It's not the first time they've been up here!". Oh yes. Well, eventually I got them past the parking lot and over to the hedges in front of the grey building. I let them snack there for a while. A few people passed by, but everyone took it with a smile. There was also a guy with a dog, but it was a small one on a leash so it wasn't a problem. Just a tense face-off. The dog wanted to play and they goats wanted it to go away, a hey a hey hey.
Then something spooked Mia and the little ones. And Mia jumped right up into the hedge. It looked pretty darn comical. I mean, if that had been a panther coming for you goats, you'd have been stuck there, defenceless in the hedge, Mia. Sheesh. It reminded me of an old woman on a chair screaming about a mouse. Only imagine instead of a mouse it was a panther. Jumping up and being stuck in a fence is not a good idea when faced with danger.
I don't think it was a panther. I think it was a bird. There's a specific bird that always spooks the goats. I forget what it's called.
But everyone survived the imaginary panthers and parking lots. Just an average day in Goat Town.
13/11 2018
—
.
Uh oh. I don't think we're in Kansas anymore.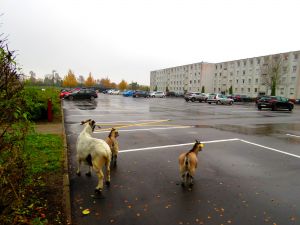 13/11 2018
—
.
I had to sound the alarms today. Not about the panther-birds. But apparently a new guy started working at the playground today, and he forgot to close the door to the stables. The outside door was closed, but not the door leading out into the horse field. So once he left after having done some cleaning of stalls inside… the coast was clear for the horses to sneak inside the stable. Cue loud sounds of horses pushing stuff around and undoubtedly trying to get into the food supply. I don't know if horses getting in the food can have the disastrous outcome that it could have for goats, but I had to overcome my social phobia and go tell the human peoples that something was up. Finbarr came and shooed the horses out and got the door closed. All is well that ends well. Nice to know it's not only the goats that seize every chance to get in trouble.
13/11 2018
—
.
Just checking out the neighbourhood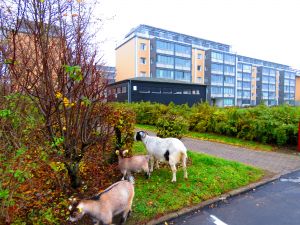 13/11 2018
—
.
I need something human. I need humans to be humane again..

13/11 2018
—
.
This is Mia in the hedge. The picture doesn't quite capture how comical it looked when she… just jumped right in there. You know, if it HAD been a panther then the sensible thing would have been to run. And keep running. There's no way forward there. She had to kinda awkwardly bumble back out the way she came. I don't think she really planned it out. "I'll just jump on this hedge and maybe the panther won't be able to get me".
Good thing the chirping panther flew away to nest in a tree somewhere.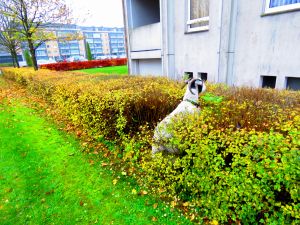 13/11 2018
—
.
Oh come on! Knock it out! If you don't stop being that cute I'm going to have you locked up on the grounds of I can't stand it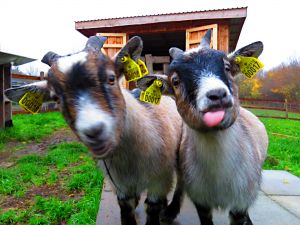 13/11 2018
—
.
Planning her next road trip, I bet.
I am off to bed. Escape to the sanity of dreams.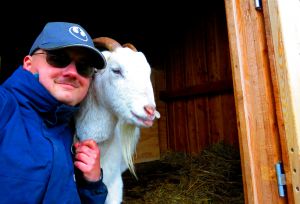 13/11 2018
—
.
Today will be a good day. Happy Hump day everyone.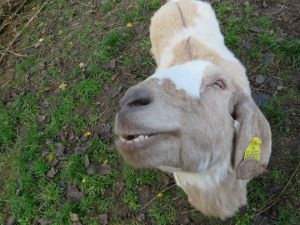 14/11 2018
—
.
Oh yeah, if you want to hear the visiting kids singing for the goats, it's at the end of this video. Watch out for bread thieves.
link: goat video
14/11 2018
—
.
I had good magical dreams last night. A couple of scary ones. One of them wouldn't make sense if you don't know who Jakob Stegelmann is. Haha. And one of them I was playing Stewie from Family Guy in a sort of Mario Kart game, I was driving around with him and I drove into darkness and there were monsters and eventually the monsters killed me and when I wanted to boot up the game again it told me I couldn't play again for another month because I'd gotten Stewie killed. Imagine if computer ganes worked like that, you die you can't play for a month.
And another dream I was Kevin from Wonder Years and me and my friends were playing Baseball against older kids. I don't know how my brain managed that, I ahve no idea how to play baseball in actual life, I've never even watched 5 minutes of it. Haha. I can't tell you how hard it is to get up and go into real life when I have a private cinema with free wellness blanket pulling me back.
14/11 2018
—
.
goatlog

14/11 2018
—
.
Today will be a good day .Here's Thor from 2008.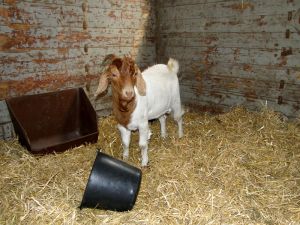 15/11 2018
—
.
Good goat times today. Broke out the leash for the first time since… well, since the kids were kids I guess. It's just about close to a year ago that they arrived at our doorstep. But time was up for Mio.
Turned out to be the right choice too. She headed right for the path to the forbidden zone when we went out. And when she saw me coming after her with the rope in my hand she knew what was up and just sped up. But she's not the fastest goat in the field, so eventually she had to give up. And I got the leash on her and we changed course. Went back to the goat pen and to the treeline down there. Then I took the leash off her. No parking lots of apartment blocks down there, at least not in easy reach. It was nice to have a bit of a calmer day and be able to let them just forage around in the shrubbery and growth there. Although it's not a goat day if they don't get in a little trouble. There's a garden thing down there, I think it's some communal thing where people in the neighbourhood can have a little plot or just a row or plants or something like that. A guy who walked by once remarked that it would be good if the goats would come down and eat the weeds there. Haha yeah, but the goats would eat the weeds and then everything else. Heck they'd probably eat everything else and leave the weeds just to make a point. I don't think there can be much growing there right now. But I figured I'd better keep the goats out of there. Of course grandma had other ideas, and managed to get a moouthful of some leafy green thing before I shooed her back out. And that was enough to spook Mia and the little ones so they ran back towards the pen and crossed the path. And the kids kept running up to the open gate to their pen and then they ran in there and then they ran down to the fence and lookd back at us and bleated because they thought they were locked in the pen now. Sometimes goats just have a one track mind. It's like they forgot that they just ran through an open gate. If they wanted to get out of the pen and join the flock again they could just go back to the open gate. But nooo. They can only look ahead and there's a fence in the way! So I had to go up to the open gate to show them that the open gate was open and then they could figure out how to get out of the pen again. Goats are so smart but sometimes they just don't see the bigger picture.
But it was fun, and definitely better than chasing grandma through thick jungles and parking lots.
Later when we were relaxing in the pen a couple of women with kids came by. So I got up to do my goat dury, walked over to the fence and got the goats to follow so the visitors could have some goat time. One of the women said that the big boers were the ones that had been in her back yard the day before yesterday, that they had gotten loose. Hmm. Well, that was the day when I had them out on the lose in the parking lot and neighbourhood. I think she must have just not seen me then or forgotten I was there. But she just laughed about it. The chickens had been up there too, apparently it's a common occurence for the feathery fowls to wander up there. Maybe I gotta put the rooster on a leash too..
15/11 2018
—
.
Oh, a couple of funny details I missed from the goat report:
When I was leading Mio back on the leash, Mia decided to start challenging her with headbutts. Maybe she sensed some weakness from grandma? Her authority being challenged? Or maybe the leash annoyed her, she kind got tangled up in it a little haha. Poor grandma, being dragged back on a rope and having her youngling being all defiant.
We spent some time by the kindergarten fence too. One kid proclaimed that the goats were his friends, apparently he'd seen them before. One kid proclaimed "I CAN SEE ITS BUTT". Maybe have to do a DNA test to see if it's Keiko-litter. Another proclaimed "IT'S LOOKING RIGHT AT ME" (the goat, not the butt).
15/11 2018
—
.
Grandma on the leash. Mia investigating it.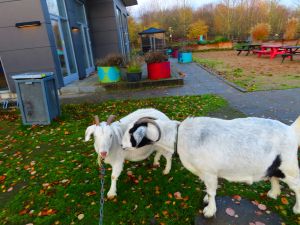 15/11 2018
—
.
zOMG the caravan is coming and it's full of sith and hutts and young male clone troopers, i saw on it on the force and friends


15/11 2018
—
.
The Olsen Gang off stealing God's gold in heaven. Give 'em hell, boys.
15/11 2018
—
.
Here's an update on the house next door. The road leading right through the apartment block.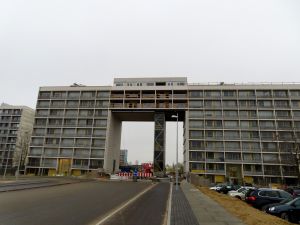 15/11 2018
—
.
Milo-vision. Do not attempt to adjust your television. All your treats are belong to he.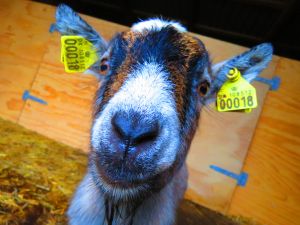 15/11 2018
—
.
Today will be a good day. Have a Fuzzy Friday with the fuzzmon from 2016.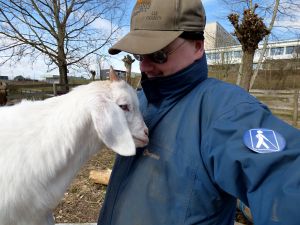 16/11 2018
—
.
goatlog

16/11 2018
—
.
[Comments are disabled for this video]
16/11 2018
—
.
Hey Shadow man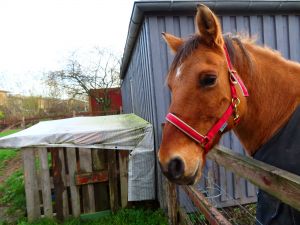 16/11 2018
—
.
do you ever feel like there's no you left?
16/11 2018
—
.
It's a licorice for breakfast kinda year
17/11 2018
—
.
Today will be a good day. Here's Bruce and Clark from 2014.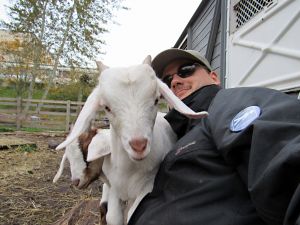 17/11 2018
—
.
See you at the crossroads
17/11 2018
—
.
These are trying times. The tomatoes and cucumbers are going out of season and don't taste so well. But I can't yet get frozen elderberry soup in the soupermarket. So what's a guy to do?! *nibbles on chocolate bar*
17/11 2018
—
.
My favourite joke of all time is whne someone says "I can explain" and then they pause and then instead of saying something they just run away.
17/11 2018
—
.
Has anyone seen Mia? Well, she must be around here somwhere. I'm sure she'll turn up.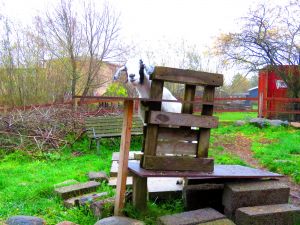 17/11 2018
—
.
The puppet episode of every show is always either the most delightful (Angel) or the most creepy (Stan Against Evil), or both (Ash Vs Evil Dead).
17/11 2018
—
.
I mean it's a nice pocket, it's charming and all. But I'm just not sure it's a hot pocket. I think I need another beer or 3 in me.
17/11 2018
—
.
I goat you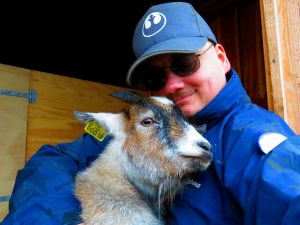 17/11 2018
—
.
Heading off on a dreamtrip to the offreality colonies. See you in the starlight, moonkids.
17/11 2018
—
.
Today will be a good day. Happy Funday everyone.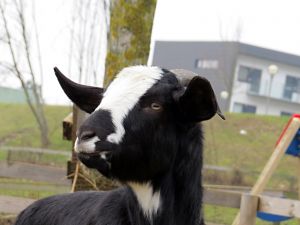 18/11 2018
—
.
Big as a house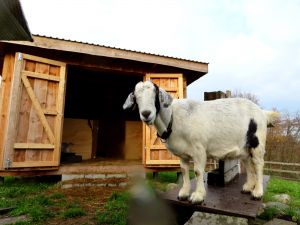 18/11 2018
—
.
Made myself cry last night when I accidentally thought about Jurassic Bark. I defy anyone who's ever had a dog, or any pet, to not break down at the ending of Jurassic Bark. It shows how much animals mean to us, that even a silly scifi cartoon can make us cry like it's a Meryl Streep wartime tearjerker. You know? You know.
I went to bed with a head full of heavy thoughts about all my regrets and how much suffering there is in the world, animals and humans, and all sorts of sad thoughts. It made me think about, what if when you're at the gates of heaven (if you believe in that sort of thing), what if you're not judged by St Peter or God or whoever, what if you have to judge yourself? If God asked you if you deserved to go to heaven would you say yes? I would not.
And all because of a god damn cartoon dog, sheesh.
18/11 2018
—
.
Synchronized cuteness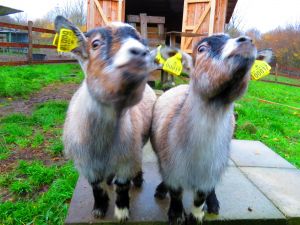 18/11 2018
—
.
goatlog

18/11 2018
—
.
Well, would you just look at what I done got in the mailboxaroney! Thank you so much, Cyd Burk ! They're gorgeous! The photo doesn't half do them justice. The colours are so beautiful. Especially the Yogi one. Brilliant! Once again I am blessed with the best friends.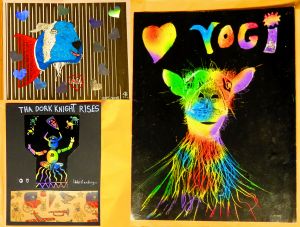 18/11 2018
—
.
It's like a circus around here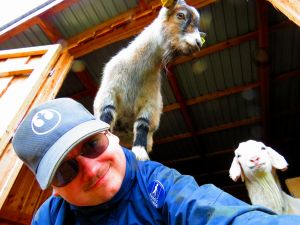 18/11 2018
—
.
.
—
That's all for this week.