It's December now, and winter has arrived. Cold and wet. Sitting on the bench with the goats on Thursday I even caught a little snow falling. Tis the season. I'm going to have to break out the thermal underwear again. The winter coat and snow pants are no longer enough. And I am already working on my mother, trying to get her to cook up another batch of soup. The perks of being a frozen wallflower.
Harder to take pictures in the bad weather, but I did manage to squeeze in a few. So on with the goats.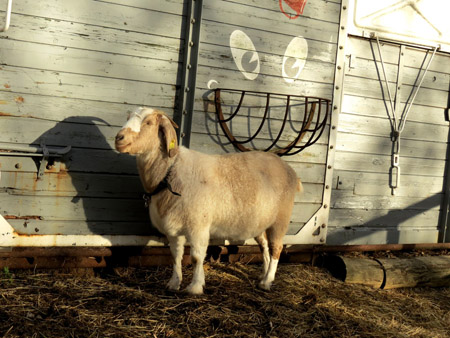 Kamel in a rare sunshower.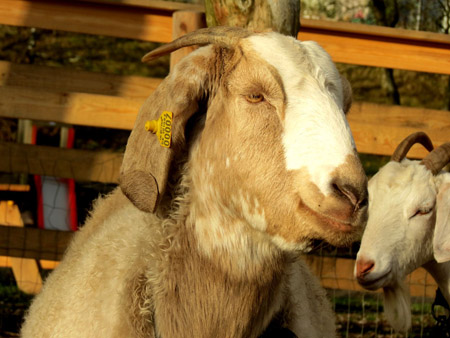 And i had to take advantage of the brief sunshine to take another, this time Mio snuck into the frame.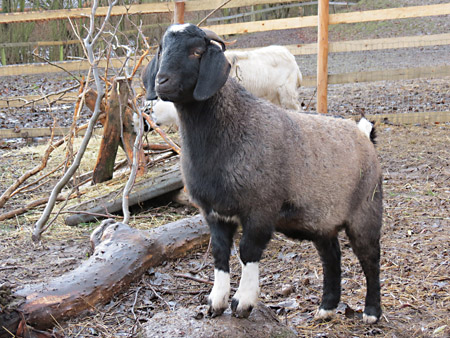 Bob with his hooves on the cinderblock.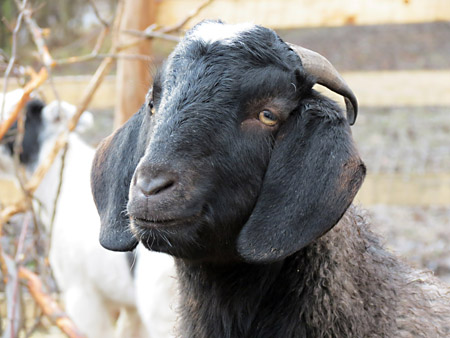 And closerupperer of Bob.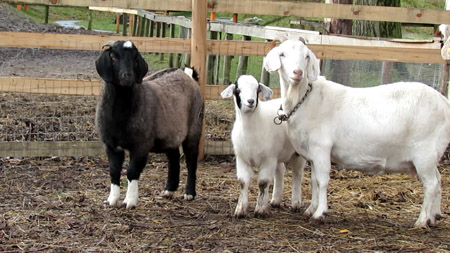 This is a video still. I just think it nicely illustrates how big Mia is getting! Three and half months old. Bob is a year and a half but she's catching up to him. She still drinks milk from momma regularly, as you can tell by her dirty knees.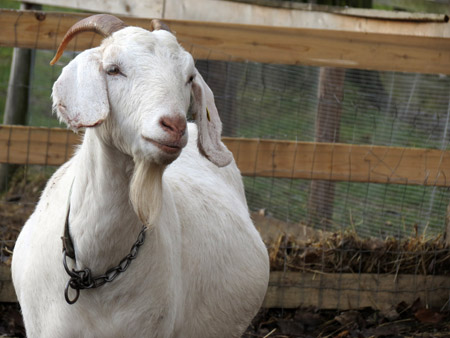 And finally a sweet one of mama Mio.
That is the pictures. Now for the videos.
First a goatlog from Monday. There's a sweet bit with Bodil's dog Sif running around crazily while Mio sticks her head through the fence to keep watch. Bodil was laughing and laughing, I can't recall ever seeing Sif being that animated. Cute. There's also another sped-up part with me moving tree logs and tables around. Just imagine the Benny Hill theme playing.
—
And a goatlog from Thursday. I couldn't film much because of the rain (and snow) so it's a short one. There's a little of Bob on the cinderblock and tree log. Kamel looking up at my hands. And then the goats fleeing to the far corner of the fold when people were making a lot of noise inside the stables.
And that's yer lot for this week. The funny little video of Mia jumping around and butting heads with Kamel from last week was reposted by the Goats Facebook page. That means potentially almost 30,000 people seeing the video. Okay, not all of them will watch it. But it's still cool. It's been up there a day and it has 40 re-shares and 90 Likes. That makes me happy. I love my goat friends and I love sharing them. I've gotten a couple of nice new friends on Facebook who like goats as well. Which is nice, because I do spam a lot of goat posts.
Speaking of goats, which I am always, I have also commisioned a custom fridge magnet for my new fridge magnet collection. A magnet with a picture of Mads and Magnethe, my two dearly missed goat friends. It will be nice to have them on my fridge along with magnets from people I know around the world. I have already gotten a couple of pledges from people on Facebook who are willing to send me magnets to go with the ones I already have. So that's really nice. And in general I have been feeling better lately. After a period of not feeling so good. Things are looking up. And I'm still off the cola. Drinking more water. Go me, go. Go, go, go.
Now I have to go.