Brrr! Winter has really come now. I woke up on Monday to snow. I wasn't expecting that. At least not such a substantial amount. If I had known we'd get that much snow I would have gotten up earlier and gone to the playground so I could see the goats being let out and Mia's first look at the snow. It has snowed a little bit before, but this was the first day with enough snow for it to stay on the ground. And it was still pretty good timing, that it snowed on Monday. I didn't get to see her first steps in the snow, but I was probably there about an hour after they opened so I got to see a lot of her first day in the snow. And it was all very beautiful. I have always loved the way everything looks under snow. And now with warmer winter clothes I can enjoy it better. Hopefully this winter I won't be relegated to only visiting the playground once a week. Like previous winters. I think I can stand it better this year.
But anyway, let me show you in pictures.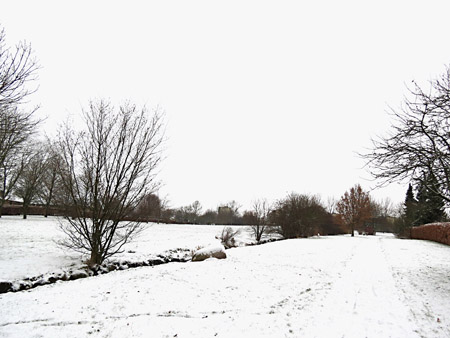 I jumped on the bus and went for a walk through the park. I always like to do that when it's snowing.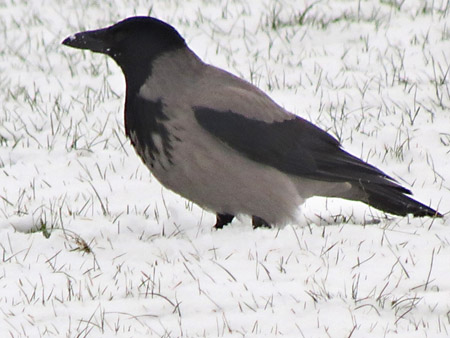 Watched the birds.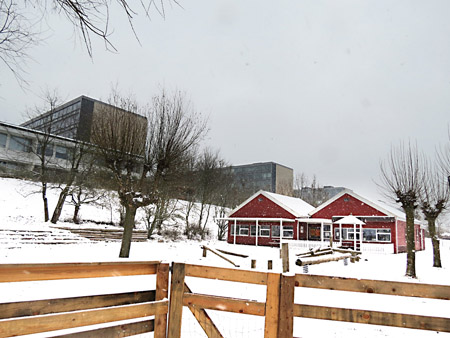 The playground also looks nice under the snowcover.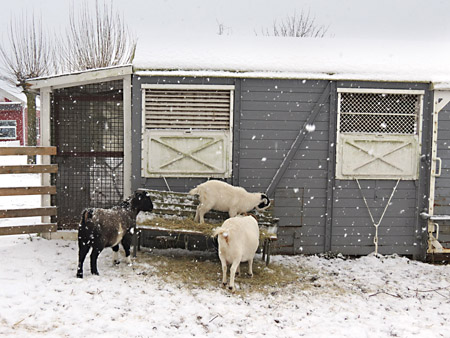 And then I spent time with the goats in the snow.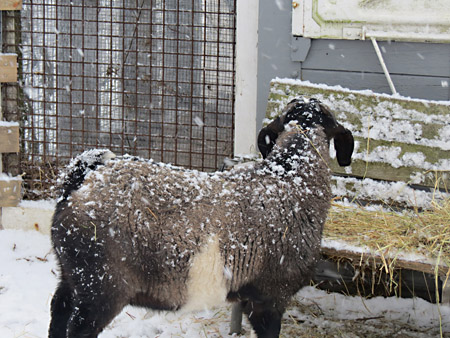 Bob is a real christmas goat now!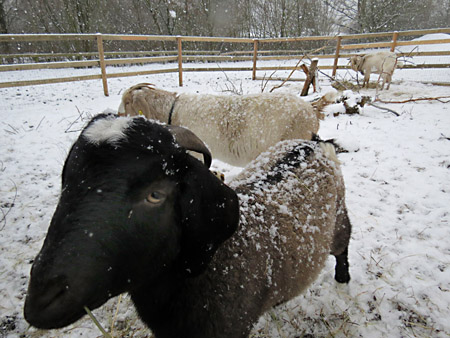 So cute with the white snow on his black fur.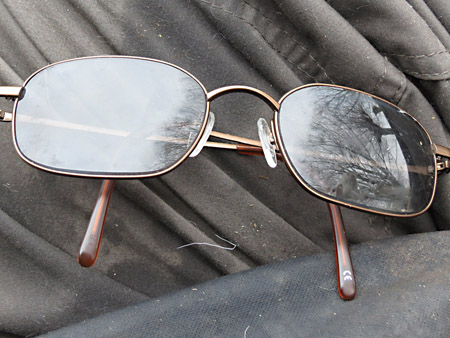 My filter glasses. Also note there is goat hair on everything I own. Just a fact of life.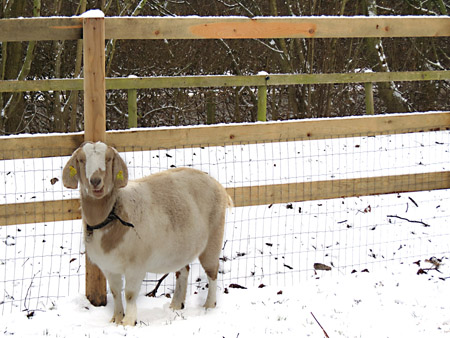 Kamel in the snow.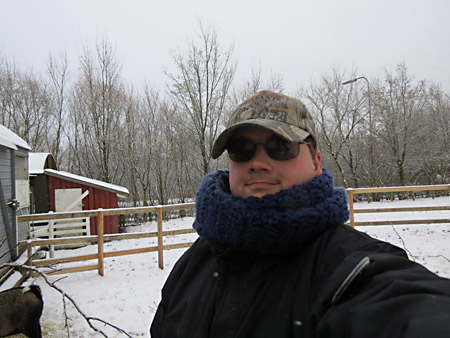 I had to bring out all my winter clothes, including the scarf that Traci knitted for me. I don't know how to wear a scarf properly, but as long as it's warm. Texas warm.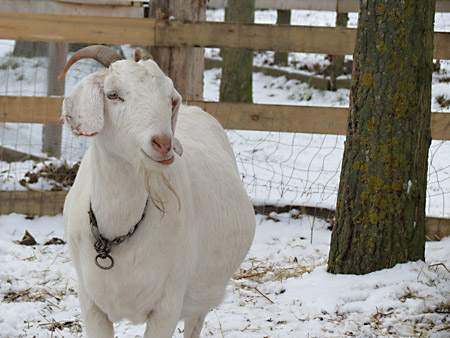 Mio in the snow.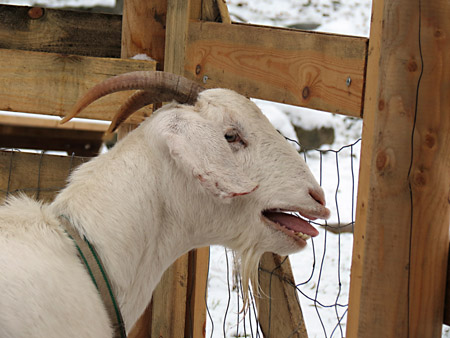 Mio again. I think she's telling them to turn on the heat already. It was speculated on Facebook that she might be trying to catch snowflakes on her tongue.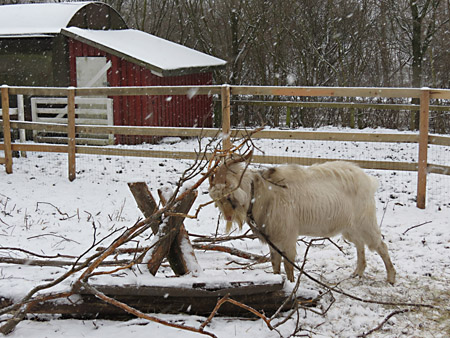 Preben. You can see how I've arranged the branches on the turned-over table so he has something to butt heads with.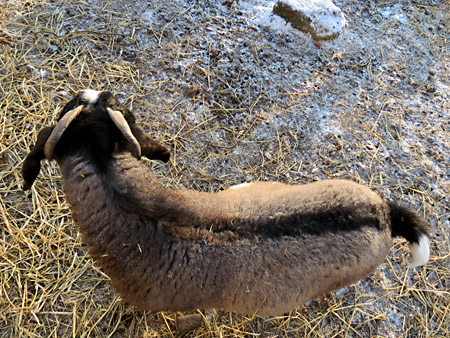 A nice look at the black stripe down Bob's back. When he starts getting woolly the rest of his fur gets whiter so the stripe really stands out. Magnethe had a black stripe down her back too, although it faded somewhat with age. I guess she passed it on to her boy.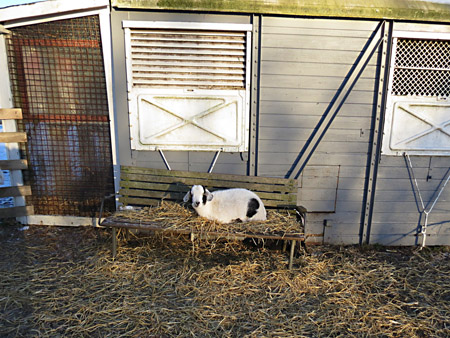 Mia takes a rest on the bench.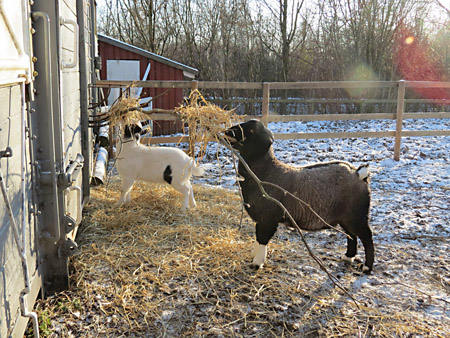 Mia and Bob. I put a branch up in the hay holder and then I put the hay up on the branch. Just to change things up a little. More fun that way.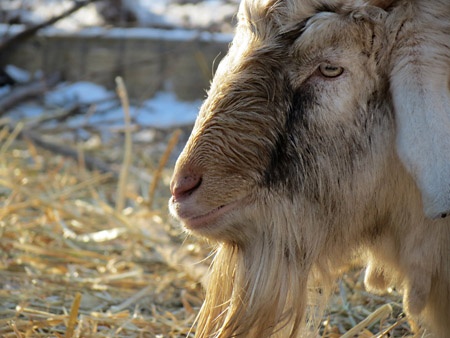 And finally a closerupper of Preben.
On to the videos. First is a little video of Mia's first fun in the snow.
—
Next is the full goatlog from Monday. Or snowlog as I called it. Lots of falling snow. Birds and horses and dogs, oh my. And of course goats. So pretty and cold.
—
And finally the goatlog from Thursday. The snow had stopped falling but there was still some left on the ground. And it was very, very, very cold.
And that's all. It has been snowing again today, so hopefully htere will be more fun with goats in the snow. And more warm clothes. Got my new sweater (seems super heavy and warm) and thermal underwear. I'm looking forward to trying them out!
Oh and I finished my playground archive. I wrote about that, right? Sigrid asked for pictures. Today I burnt a DVD with almost 3500 pictures ranging from 2003 to 2012. And 87 movies. I could fill up another 4-5-6 DVDs of movies but I guess this will do. I hope they'll like it. I'll also give them the 20 photos I had printed recently, of the current crop of goats. Merry christmasgoats!