I updated the video section with three new videos of Magnethe. They are from 2005-04-22. Had them lying around for a while. They were taken the day when Magnethe was climbing all over me. Great fun.
It was odd, making the video section yesterday. Looking through all the old videos. The people and places of the past. Tousgaardsladen where I used to work. I should go up there some time and see how they're doing. That would be good social practice. Who knows if there are any of the people I worked with left now, though. I wonder if Cafer is still working there. He always said he didn't want to go work anywhere else.
I must go back some time.
I guess no one can find the secret of the dancing monkeys? I'll tell you then. They are on my custom 404 error page. Page Not Found. So try typing in some random address on my domain and you should see the dancing monkeys along with Calvin and Hobbes. Marijuana-16=404. Right?
I had a good time at the playground yesterday. The girls came over.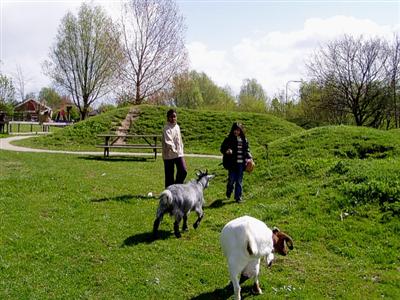 They borrowed my camera. They seemed to love taking pictures of the animals. Just like I do.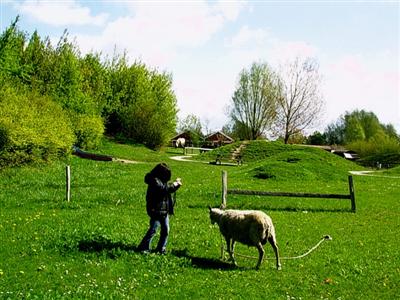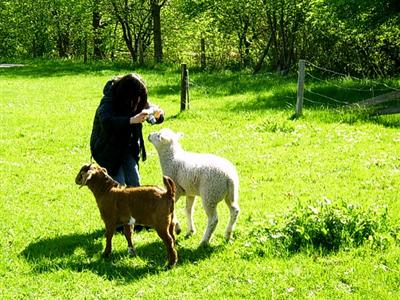 Some of their pictures turned out quite nice too. Let's see a few.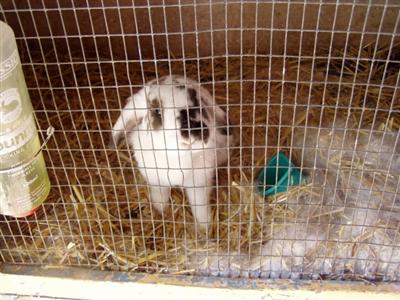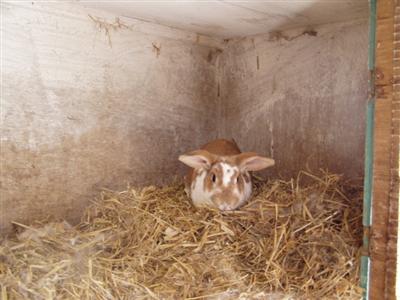 Their hamsters. One of the hamsters had babies. And the girl showed them to me. Tiny little newborn things.
More of their pictures: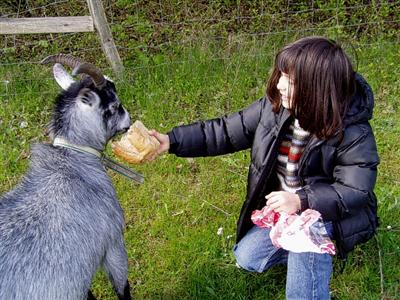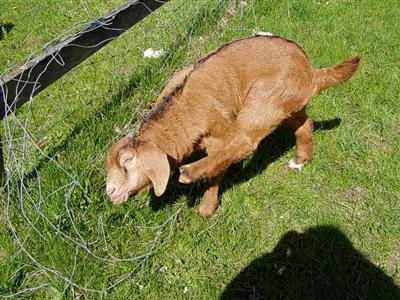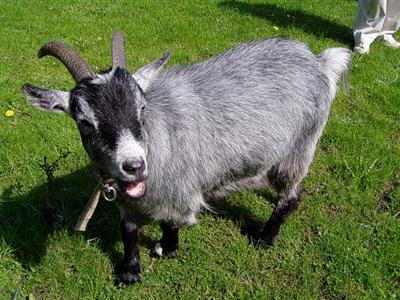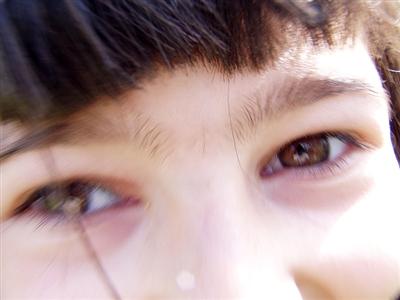 I'm not sure what that one is about. They took some pictures of me too.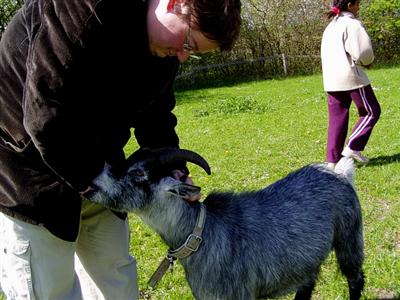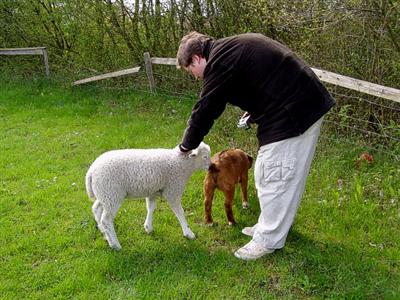 You can see me with my second camera there. That's my old camera, I use that to make videos. But while the girls borrowed my primary cam I could use it for taking some pictures too of course. Handy. I don't always bring both my cameras with me, but I was planning to shoot some videos so I could have some new stuff for the video page launch.
That's basically what I do at the playground. Walk around with a camera in my hand and pet the animals. If I don't just sit down and hang out with the goats.
Oh, and yes Lindsay, I can bring the animals food. I sometimes bring them carrots. And yesterday I brought some old bread that humans wouldn't want. The goats went crazy over it. I'm trying not to bring food too often though, I don't want to be loved only for my carrots.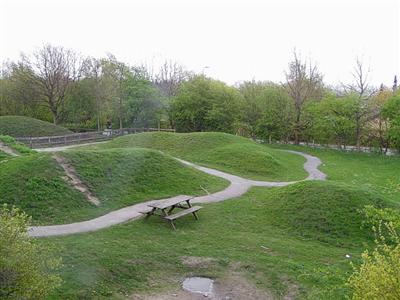 That's one of my own pictures. Not that I'm proud of it hah. But I just wanted to give you a little view from above. That's looking down on the back-end of the playground area. Where the three little hills are. I'm standing up at the top of the slide, you might remember it from other pictures. I went down the slide today. Couldn't resist it. Mads looked at me funny. I'm sure he was thinking "What are you, 9? I'm two years old and I don't go on the slide". Mads is so judgemental.
Nah.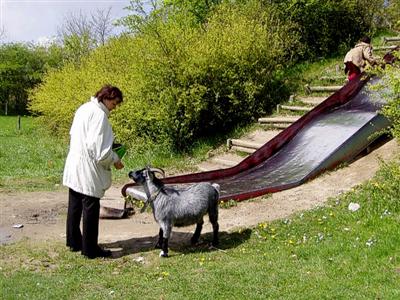 Mads loves everybody, especially if they have food.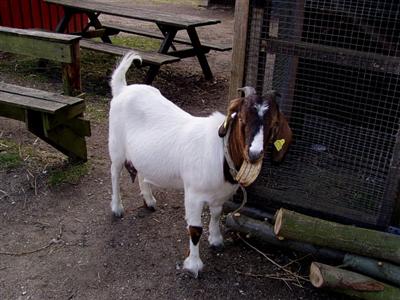 Mathilde found a banana peel. It made me smile, doesn't it look like she has some comedy tongue thing going on?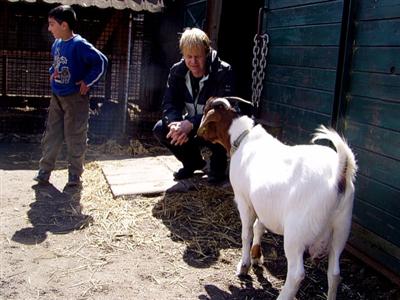 That guy is one of the supervisors. I think his name is Per, though I'm not sure. That was the guy who told me that Mathilde doesn't trust anyone else like she trusts me. I like him, for obvious reasons.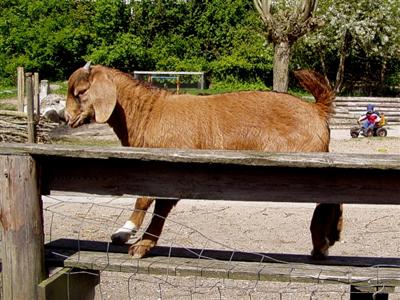 And Magnethe. She liked my stale bread too. Obviously had to give her smaller bits than the others. Her mouth just isn't big enough yet. It's so cute the way she nibbles at things though. She's growing fast but I still sort of think of her as a little baby. It's been pretty amazing, seeing her grow up. I feel fortunate. Seeing a goat kid from when it was only a few days old to now. And knowing I'll see her grow all the way up. I wish I could have seen Mads as a baby goat. Hehe. Just the thought makes me laugh. A little tiny Mads trying to eat everybody in his way.
There was a kid who liked me too. He kept asking questions about how often I came to the playground, at what times etc. Maybe it was just general curiosity but I got the feeling that he wanted to know so he could see me again. He asked me where I lived too. I pointed the general direction out to him. Then he asked if I lived with anyone. I said I lived with my parents. That shocked him. Haha. I like that. I guess I don't completely look like a goofy kid anymore. They actually see me as an adult. I told him that I was going to move out soon. And that maybe I'd move up there. He thought I meant that I was going to move in to the playground. Live with the animals or something. But no, I meant get an appartment in Bispehaven. The ghetto slum right next to the playground. It's not the best place to live, but I think it will be a good place for me to start. And having the playground close wouldn't be too bad either. I really need to get working on that. Spread my wings and fly.
Been researching the local movie theatres too. As far as I can see there are only three theatres here in Aarhus. Not much of a selection. I was thinking of going to see Der Untergang, the Hitler movie. But they onle have evening screenings of that one. At Palads, where I want to go. And I don't want to go in the evening, my first is supposed to be at a time where there aren't too many people. So I'm probably going to go see Cursed instead. A sucky werewolf movie. Hah. Der Untergang or Cursed? At least I have varied taste. But for my first movie it's just important that everything goes smoothly. Then when I have it done as a good experience I can start to plan future outings more confidently. Isn't the new Star Wars coming out soon? Seeing that in the theatre would be sweet. Unfortunately no Hitchhiker in sight. That's the downside of living in Denmark. We often have to wait a while before movies get to us. But at least now I won't have to wait the additional time for them to be released on DVD. If I can start going to the theatre regularly.
Hope you're all having a good weekend out there. Remember: dancing is good exercise for the body and the soul.
Listening: Outlandish – Aicha