Today will be a good day. Happy Mio Monday. With bonus baby Mia.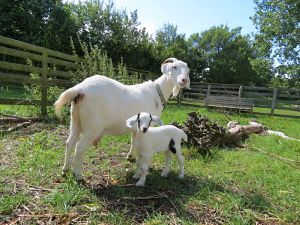 19/8 2019
—
.
It makes a lot more sense for Sky to sit here. It's more pygmy sized than.. Mia sized.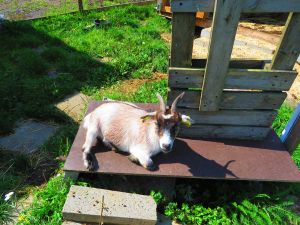 19/8 2019
—
.
Today will be a good day. HappY Yogi Day everyone.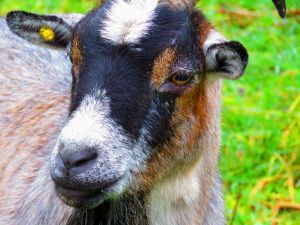 20/8 2019
—
.
Good goat times today. Pretty nice and warm, good deal of sun. Until a sudden, thankfully brief, rainfall when it was time for me to go home.
When I got to the goats there was a lot of commotion. A big digging machine and people working. Not sure exactly what they're doing. Digging. Obviously. Cutting down some branches. The goats weren't too pleased by all the noise. Neither was I. I hope they don't mess around too much. They'd dug up a fair bit of the grass outside the pen. Hope they won't ruin it all, it's nice when I let the goats out of the pen and they can go over to the kindergarten fence and graze on the grass there. Maybe that's over. We'll see. But there's grass other places and we went around and got out greens. Then back to the pen to relax, thankfully the machines were quiet by then.
On my way home I met the deer again! I assume it was the same one. Definitle with a little cub. I mean.. fawn? Aw, how sweet they are. Same place as last time. Guess I should call it Deer's Crossing. It's lovely to think there's a littel baby cub fawn deer dear growing up in the greens out there.
20/8 2019
—
.
Here's the digging machine. You can see they already removed a bunch of grass in front of the kindergarten fence. Not sure how it will all end up.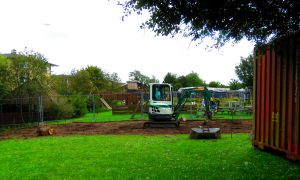 20/8 2019
—
.
Coming up next, Cooking With Milo. First step: Steal all the ingredients from uncle's treatpocket.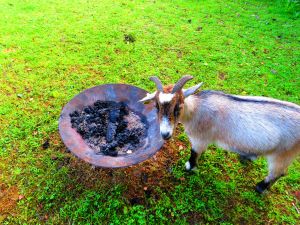 20/8 2019
—
.
I prefer keeping my goats sorted according to size. It's just easier to keep track of them that way.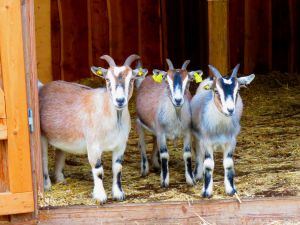 20/8 2019
—
.
Make America Denmark Again!
If we DO buy America, we'll have to build a wall around some of the less desirable states. I'm not going to name names, but you all know who you are. We have standards in Denmark. We know not all your states are the best states.
20/8 2019
—
.
Alright, I'm going to head to bed. And dream of tropical islands under the smiling sun. And goat butts.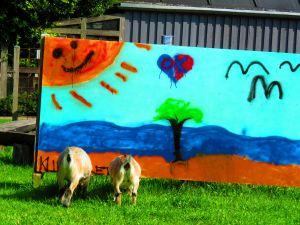 20/8 2019
—
.
Today will be a good day. Happy Hump Day everyone.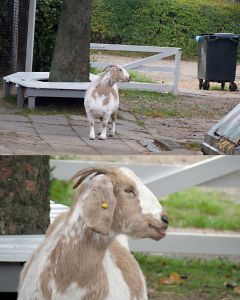 21/8 2019
—
.
You know how time is a linear progression, a straight line?
Sometimse when I exercise I feel like time collapses into a single point. All time at once.
Haha, I'm being serious actually. It happens rarely. I think it's got something to do with not breathing right. Forgetting to breathe properly. I get dizzy and woozy and I feel like I'm falling into a black hole and I feel like I'm transported to another time. It's actually a little scary. The first times it happened I thought I was going to die. Or pass out at least. It has happened enough now that I know it's not going to kill me. So I actually enjoy it. I lean into it. If I can feel it's almost happening then I try to trigger it. Beause it's fascinating. If you could fall into a black hole and be torn apart and reassembled at all time in one second, wouldn't you?
If it was something that happened a lot then i would probably go to the doctor about it. but it happens very rarely. Like once a month. Or two times in a month and then 3 months where it doesn't happen. I think it has happend once or twice while walking to the goats. Maybe because of that one hour walk. Usually it's on the exercise bike. And often it's connected to a song. Nostalgia I guess. Today it was Sabotage. When it started playing in my ears I started getting that feeling. The dizziness, the visions of post times crashing into the current view. Like your mind being put into a blender, past and present being mashed together and squeezed out like a time sausage.
Or something. It's a really weird feeling. I feel like if I could control it I could probably time travel. See you in the 90s, suckers.
21/8 2019
—
.
Sigh. I guess you're all dying to hear my thoughts on the Trump thing. OR, desperately hoping I'm going to ignore it.
Well, obviously I'm glad he's not coming. I'd prefer he cancel the trip instead of postponing it, though. I would very much like him to stay the fuck out of Denmark. (This is probably going to be a sweary, rambly post. Proceed at your own risk).
It's just so dumb. This is what happens when you put a literal (Literal. LITERAL) baby in charge of a country. He makes an objectively absurd proposal to buy something that isn't for sale and then he gets offended when we point out it's absurd? Fucking idiot. Calling our prime minister nasty. Lols. Yeah, he's not used to women having the option to turn him down.
The thing is, we're a tiny country. A presidential visit is a big deal, it's expensive as hell. It would be a noticeable drain on our police budget. And i'm pretty sure there has already been ressources spent on this shit. That's what sucks.
Thing is also, we're your fucking ally. We're a tiny country, but we do our part. Our at-the-time government fell right in line with your 'weapons of mass destruction' lies and we went to war with you. We've had considerable amounts of casuatties fighting on your side in wars that are more or less legitimate. Not as many casualties as kids getting killed by guns in your schools, but it still counts for a little, peaceful country. So fuck you, Trump. Stay the fuck away. We'll get back to being friends with America when you get a proper president. And I'm not saying that to mean a president of a certain party, i'm saying it to mean a prsident who isn't a fucking cunt. Ay. King of Israel or whatever the latest fucking idiocy is. The shit drops too fast to keep up with. It's just an undending string of scandals and embarrasments. It never ends. Guh.
It's so pathetic. one of the most important things in life is the ability to make fun of yourself. To accept criticism. And one of te most important things is having the ability, the right, the DUTY, to make fun of those in power. And to critcize them. It's paramount. It's the difference between living in North Korea and.. not. You want to make fun of Denmark? You want to critcize us? GO AHEAD. I welcome it. I'd be doing it a lot more myself here, if it wasn't for the fact that most of my friends here aren't Danish and wouldn't even know what i'm talking about. But it's so important. Freedom of speech, freedom of press, freedom of thought. Canceling an official state visit because your absurd idea is called absurd? Jesus christ. Fucking baby. Imagine if we just pulled all our forces and funds away because of whatever given lie Trump says on any given day. Imagine if all countries were run like that? "YOU WERE MEAN TO US, SO WE'RE TAKING OUR TOYS AND GOING HOME". Fucking Kidnergarten Cop Government.
I know some Americans who are so proud of their country. And that's great. I'm proud of Denmark. I love Denmark. But I'd neer claim we're perfect. This idea, that you can't say something bad about your country. I don't get it. The 'if you don't like it here you can leave'. NO! That's not how you love something. If you love something, you want it to improve. You want it to be better. If it has flaws, you try to fix them. You don't leave. Imagine if the people who were against slavery had just moved to Europe, or whatever. You'd still have slavery. Women wouldn't be allowed to vote. Coloured people would have to sit at the back of the bus. You don't like something? FIX IT. If you care about it. If you don't care about it, then leave. If you love America, then don't let it be run by a fucking embarassment. If you don't want heads of state calling your ideas absurd, then don't fucking put a guy in charge who constanty says absurd shit and doesn't know how politics work. A king of bankrupcies. A black hole of morality. A guy who would grab your daughter's pussy and assume he had the right. Don't put that guy in charge and expect our soldiers to die for you. Don't let that be good enough. If you love your country. If you love your political party. If you love your religion. Don't sell your fucking soul to the devil and then get offended when we make the sign of the cross to fend him off. If you love your country, DEMAND BETTER. And criticize its flaws. Whether the president is a democrat or republican. Man or women. Straight or gay. Anerica has a lot of flaws. But you're also the best damn country in the world, YOU'RE BETTER THAN THIS. You have to be. Don't fucking keep going down this road. Demand more. Don't leave, stay and fix it.
And please, for the love of god. Keep that sack of shit out of our country. You know he'll be going on world tours when he's out of office. Like a racist circus coming to town to sell you snake oil and teach you how to build walls.
Where was I? I don't even know. Just, be better. For fucks sake.
21/8 2019
—
.
I don't normally share fundraisers. It's nothing personal, I just.. I don't know. I don't want people to feel pressured. It's the same with Mia's page. I prefer it to be easy, simple, clean and not ask anything of you. Not ask for you to send me money or anyone else money, not feel like you have to just because you might like me or the goats. I don't want it to be part of the equation.
And that's not going to change, again it's nothing personal. Lots of good people trying to help lots of good causes. I like to pitch in here and there when I can, even if it's just a little. But this thing just kicked me so hard in the heart. Some of you know Kimberly, Dahlia Kennedy's human momma. She does a lot of good for animals, she's always seemed like a great person who goes above and beyond to help animals. She took in a kitten. The kitten ended up not jus dying but having a contageous condition that has cost the lives of more of her cats. And stuck her with a potentially debilitating vet bill that might have serious repercusions for the other animals she's taking care of.
So, don't feel any pressure or obligation, but if you can send any little amount to this fundraiser, or share it, I would personally appreciate it a lot. (I can't contribute to it myself, unfortunately, for some reason some fundraisers on here don't accept paypal. I'm not sure why some do and some don't, but I don't want to connect my crdit card with facebook, so I can't contribute to those that don't accept paypal. i'm talking with Kimberly in private and have offered to send her something through paypal if she will accept that).
My heart goes out to Kimberly, I can't imagine the guilt and sadness. And a thank you to everyone out there who's actually actively doing stuff to help animals, and even humans. I'm just some guy posting too much on the facebook. I admire you all who actually do things. I wish I could have a goat sanctuary and help those in need.
21/8 2019
—
.
Here is a happy goat photo, gotta give the crowd what they want.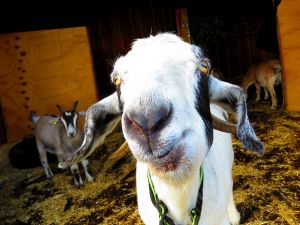 21/8 2019
—
.
"Trump shined a light on the monsters. And the monsters realized that they could survive in the light. "
Lasse, 2019.
Haha. Sorry. I liked that line, though. Used to be that being a nazi wasn't socially acceptable. Now? Eh, there are good people on both sides right?
Also, I wanted to note. I got sent, in private, a video supposedly showing a newly elected Michigan congresswoman talking about "the final solution" of spreading Islam through the educiaton system, or something like that. It took me literally 5 seconds on google to find out that the video is 3 decades old and the woman in the video is DEAD. And while some of the content was a little disturbing maybe, I have to say that peacefully spreading your religious views through education is a lot better than some of the things Christianity has done over the years. How about you educate your kids about all religions and also science and then we go from there? Are you afraid they won't believe in god if you stop forcing them to sing hymns in school?
It just pains me that people that mostly are actually quite nice are out there spreading such damaging lies while also constantly moaning about 'lamestream media fake news'. What do you do when people think fact checking is biased?
22/8 2019
—
.
Relax, goats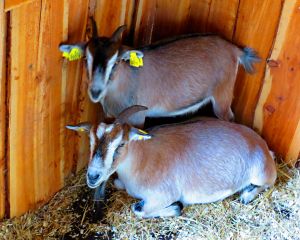 22/8 2019
—
.
Today will be a good day. Here's Mathilde from 2005, with a sheepy friend.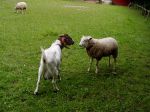 22/8 2019
—
.
It's the heart that matters most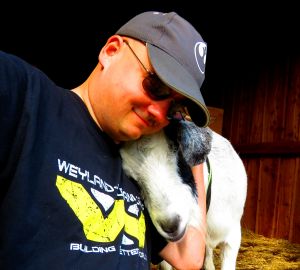 22/8 2019
—
.
Today will be a good day. Here's Bruce from 2014.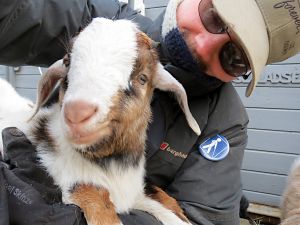 23/8 2019
—
.
*walks in, wearing my 'ask me about David Koch' t-shirt*
23/8 2019
—
.
Yes, we used to have sheep at the old playground. Had some real cute lambs over the years. We also had an Esther-sized pig, with little piglets a couple of times. And geese. Along with horses and goats. A cat and ducks. That was the golden era, before finances and other circumstances got in the way. At the end it was just goats and bunnies and chickens.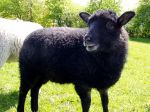 23/8 2019
—
.
Here's one of my favourite old lamb pictures. Lambs are so cute. They aren't as devious as goat kids, which is probably why I've always loved goat kids most. But lambs are such fluffy little sweeties.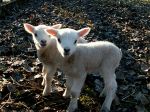 23/8 2019
—
.
I still remember seeing this goal on the telly back in the 90s. It was probably past midnight, sometimes Danish TV2 would show primera games late at night, especially games involving Barcelona and Michael Laudrup.
Laudrup + Romario = peak football. Today it's just shitty money grubbing athletics. Like eveything else, it was better in the 90s.
You're welcome, my football loving American friends.
link: romario goal
23/8 2019
—
.
Checks in on twitter. Sees Mandalorian trailer and Ewan is back. Also sees that Trump White House is arguing that employers can fire employees simply for being gay or trans.
So the trend continues. Fiction is appealing, reality is appaling.
24/8 2019
—
.
Today will be a good day. Here's Bob from 2012.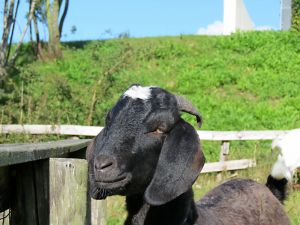 24/8 2019
—
.
Yeah well if the world is roudn then how come wa haven't drowned yet, it's rained for millions of years obvs the rain is falling off the sides of the FLAT EARHT
24/8 2019
—
.
Skyfacebook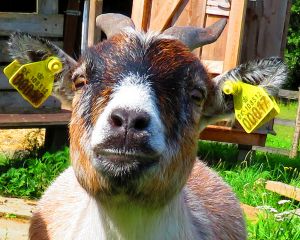 24/8 2019
—
.
Today will be a good day. Happy Funday everyone.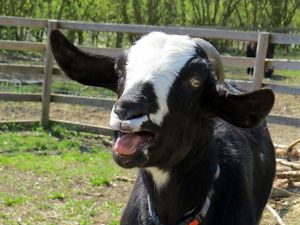 25/8 2019
—
.
It's a hot day. Remember I said summer might be over here? Well the forecast is looking much better now. Everything above 20/68. Not superhot, but enough to call it summer. So that's nice. I am not actually feeling super great. Stuff going on. In my head. I don't know. I would rather be in the dreamworld than this world. We'll see how everything goes. Hope you're all doing well out there.
You can let go, Jack
25/8 2019
—
.
immerse your soul in goats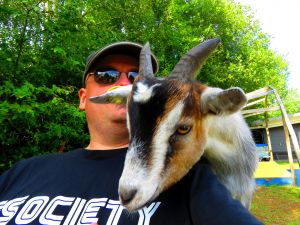 25/8 2019
—
.
I went to the supermarket today and people kept stopping me to tell me that I didn't look fat and that I should buy more icecream because it's good for me.
And then I went home and had sex with my girlfriend, you don't know her she goes t another school. She's also the mayor of England and she farts money and sometimes when I get up in the morning my friends play a fanfare of trumpets because they're so happy that I'm alive and attractive and I should eat more icecream.



25/8 2019
—
.
Another tight fit.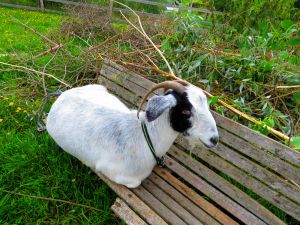 25/8 2019
—
.
.
—
That's all for now.