Oh, the first episode of the new season of Mr Mercedes referenced goat yoga.
So, that's what's up.
23/9 2019
—
.
Today will be a good day. Happy Mio Monday everyone.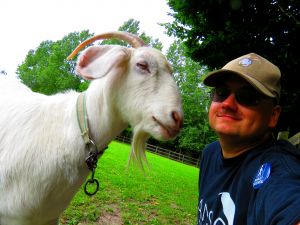 23/9 2019
—
.
Good goat times today. Twas a grey day, but the goats were still in fine form. Nuller put on a good show gor some little visitors. Standing on my shoulders to eat the leaves above. And they did some fine running at the sandpit. Mia and Sassy clacked horns and then Mia jumped around with some of the best pronks in a long time. She had me laughing more than usual. Back in the pen Nuller was butting heads with both Milo and Sky. Until Mia came in and broke it up. He's got respect for Mia. And Sky was scratching herself again. I can't remember if I've mentioned it before, but I found out that it's one of the old christmas trees that she likes to rub against. Hard, jagged little branches and the tip, she can stand around for ages just rubbing her chest against it. Little tongue poking out. So cute.
23/9 2019
—
.
Butthead and Headbutter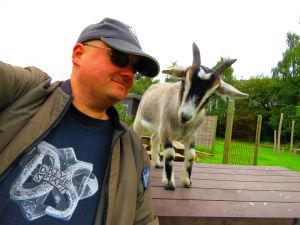 23/9 2019
—
.
Giving treats to Milo and Sky, and I turn around and… three little newbies desperately hoping to get some too.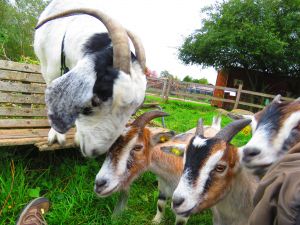 23/9 2019
—
.
Tired and headeachey. Heading to the bed place. See you tomorrow if you make the flip.
23/9 2019
—
.
Today will be a good day. HappY Yogi Day everyone.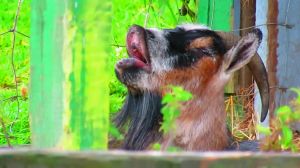 24/9 2019
—
.
I looked up 'soda fountain' on the youtubes yesterday. I've been hearing that term in American books. And I always had this mental image of a beautiful fountain spewing soda. But I knew rationally that it couldn't be like that. So I had to look it up. And I mean, the real thing is neat enough. But I prefer my magic soda fountain that blasts cola and 7up and sprite and fanta everywhere and you just go over with a cup and stick it in the fountain to fill it. If you vote for my as ruler of the universe I promise to manufacture actual soda fountains everywhere.
24/9 2019
—
.
Shut up I know it
link: this guy's all goat jokes video
24/9 2019
—
.
I'm hearing a lot of talk about impeachment..
.
It's kinda crazy that I can load this thing up on the youtube and I can singalong word for word. I kinda miss sitting in front of MTV, waiting for the songs I wanted to hear. Do kids today even realise the M is for music?
Wait, IS ths M for music?
Anyway. Funny how some songwords just hibernate in your brain, ready to be called up years later on command.

24/9 2019
—
.
Actually, a Xenomorph lamb would be pretty cute..


24/9 2019
—
.
Alright, I better post some goat content too, to keep the masses entertained. Here's Milo and Sky providing the fix.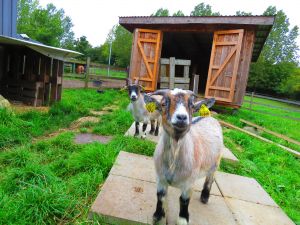 24/9 2019
—
.
As nice as it would be to see the complete meltdown of a Trump impeached, at this point I'd just really to see him get his ass handed to him in the election next year. We all know he's a crook, we all know 30-40-50 percent of America doesn't care. We all know it doesn't matter, just like we know it doesn't matter what Bill Clinton did or did not do. All that matters is who has gerrymandered the best.
Last one out turn off the light.
Or, keep it burning. With the light bulbs that cause most damage to the environtment possible.
25/9 2019
—
.
Impeachment is nice, but is there some legal loophole that we can use to force Donald Trump and Boris Johnson to fight eachother in a topless boxing match?
25/9 2019
—
.
Today will be a good day. Happy Hump Day everyone.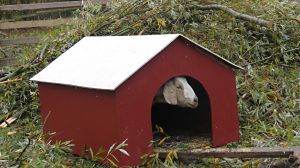 25/9 2019
—
.
My pizza place gave me a 15%-off-your-next-order voucher because I'm such a loyal customer.
At first I thought it was a voucher for their personal website to get me to use that. I always order junk food from this service called 'just-eat' where the various places are members. That place takes a cut, so sometimes the places will slip you some advertisement possibly with a discount to get you to go their site so they don't have to give a cut to just-eat.
But no, it was a voucher for my next order on just-eat. So that was nice. Of course 15% off one order is a drop in the bucket for an addict as myself. But I'll take it.
25/9 2019
—
.
Are you taking a selfie?!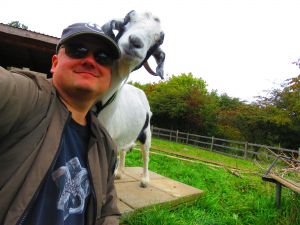 25/9 2019
—
.
Hey baby, wanna impeach all humans?
Man, this impeachment is on fleek, am I right fellow kids?
Hey, I just met you and this is crazy but here's my number, call my impeachment lawyer maybe.
[impeachment intensifies]
Okay, I think I'm done. For now.
25/9 2019
—
.
Did someone say peaches?


25/9 2019
—
.
Today will be a good day. Here's Popcorn from 2015.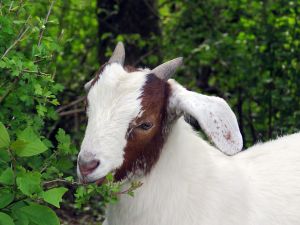 26/9 2019
—
.
Hey, I have an idea. Let's put a non-politician in charge of a political system, what could go wrong?
Smash-cut to crooked businessman doing crooked things in charge.
Well, I guess it's nobody's fault. It's not like he was caught on tape admitting to beign awful beforehand. No way to predict this. And we all value profit over the environment anyway, so it's cool.
26/9 2019
—
.
goatlog

26/9 2019
—
.
You're my rock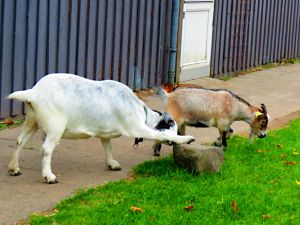 26/9 2019
—
.
Scientific theory; The downfall of modern society begun when Craigy left the Late Late show. Since then it's been one long downward spiral.

27/9 2019
—
.
Today will be a good day. Here's Vanilje from 2006.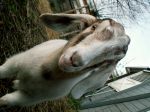 27/9 2019
—
.
Good goat times today. A grey morning with light rain. It was mostly gone when I got to the goats, but they were still pretty reluctant to come out. Might have to start bringing a hairdryer so I can dry every blade of grass for them.
I did get them out and then thankfully the sun came out. For a while it was really hot actually, I guess it was the humidity that made it feel so hot. Wet hooves but otherwise quite lovely. And we met some nice people. A couple of old grandparents with a little kid. The kid got to pet the goats and I talked a little to the grandparents. When I told them that when I'm not there the goats have to stay in their pen, the grandma said with a big smile "How lucky that they were out for grandparent's day!". Always nice when you can help people have some nice experiences with the goats.
I managed to fall when I was stretching before leaving. My foot slipped in the mud and I fell down. I managed to break my fall with my hands, so no broken ribs at least. But I did plant my hands right in some brændenælder. Nettles? Not too bad, but I do feel the sting. Oh well.
And then as I walked home, the rain came back. Much stronger this time. But it was warm enough by then to not be so unpleasant. So I kept my jacket slung over my back and felt the rain on my bare arms. Got a bit soaked, but at least the people in the supermarket got a nice Wet T-shirt show.
27/9 2019
—
.
When the sun came out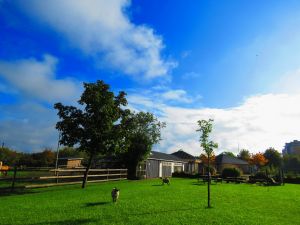 27/9 2019
—
.
Well hello there, season premiere of The Good Place. Come here often?
27/9 2019
—
.
Actual footage of me whenever someone rings my doorbell.

27/9 2019
—
.
It's too wet to leave the house. Please bring us food here.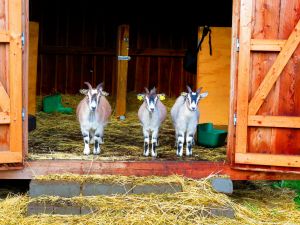 27/9 2019
—
.
Today will be a good day. Here's the Ping Pong twins from 2016.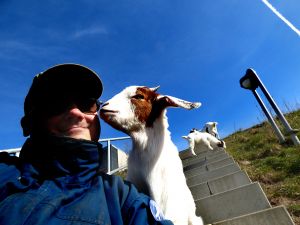 28/9 2019
—
.
How am I doing?
Not so great. Still struggling. I'm trying to just ignore and it go about things as usual. Goatposting, joking around with you all. I am thankful to know such good people. I know I'm not the best at faceboxfriending, but thank you for being there for/with me.
Trying to put on a happy face, while feeling rotten to the core. It's a weird thing sometimes. I do feel a little like the hole has gotten too deep to get out of. But I'm trying to think about and express the positive things, instead of the dark things.
I'm just tired and wish everything was over.
But it's not, so keep dragging those zombie feets across the wasteland.
28/9 2019
—
.
Think goat thoughts. Hey, Milo.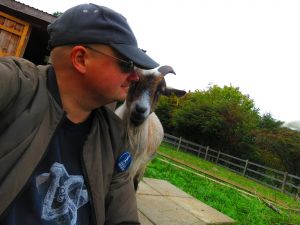 28/9 2019
—
.
Let's jam

28/9 2019
—
.
Can't believe the upstairs neighbours didn't invite me to their elephant dance party. That's it, they're off the christmas card list.
28/9 2019
—
.
Tupperware pizza boxes for the apocalypse
28/9 2019
—
.
When you said you were a patriot, I didn't realise you meant for Ukraine.
29/9 2019
—
.
This is actually quite interesting. I love Potholer's channel, he does a lot of good ridiculing and debunking of people who don't believe in climate change. But this is quite fascinating. When I was a kid I used to get lost in my imagination, thinking about the ancient Earth past. Ice ages and super continents. Simple life evolving in giant oceans. I remember reading some pulpy book where a time traveller stepped on a mosquito and when he came back to the present everything was changed. I think it was actually a Chose Your Own Adventure type book where you had to try not to … destroy all life. Can you imagine being there, Earth without human. What if you could scroll through Earth's history like you scroll through a youtube video timeline. And to think this giant complex machine that has ended up here twith us today. Was it inevitable or was it unfathomably unlikely? Has it only happened here or is it happening elsewhere as we speak? What an amazing thing the universe is. And we're just tiny blips on the timeline, ants in the cosmos, nothing in the greater picture. What an amazing evolution. Or you know, maybe it was done in 7 days by a sky wizard. Who knows.

29/9 2019
—
.
Today will be a good day. Happy Funday everyone.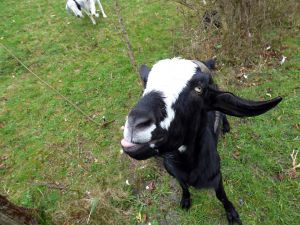 29/9 2019
—
.
The master photographer perfectly frames his shot and the magic happens.
You can learn how to operate the equipment, but some people are just born with the magic touch, that talent for making sublime art. If I could teach you, I would. I really would.
link: badly framed video
29/9 2019
—
.
Aah! Calm yoself, Lily!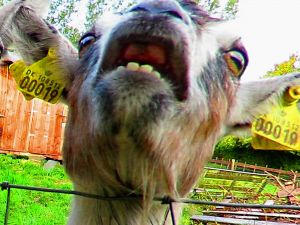 29/9 2019
—
.
.
—
That's all for now.