Today will be a good day. Happy Mio Monday everyone.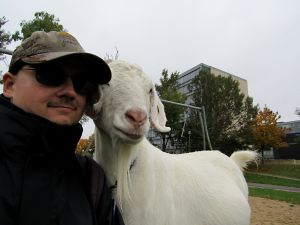 16/9 2019
—
.
goatlog

16/9 2019
—
.
There's some fear in letting go
16/9 2019
—
.
Think goat thoughts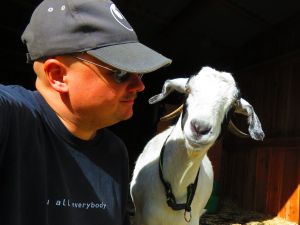 16/9 2019
—
.
Today will be a good day. HappY Yogi Day everyone.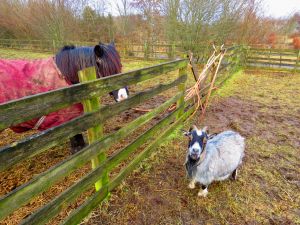 17/9 2019
—
.
Good goat times today. It was a cold and rainy morning. Not so nice. But about halfway to the goats, the rain stopped more or less. And by the time I took the goats out we actually had sunshine. For about an hour and a half. Then the rain started falling again. So we stampeded home to spend time in the goat house instead. Rain and sun on and off. I miss summer already. But it was good to be back with the goats. The only place where everything feels okay. Spent some time sitting with Nuller in my lap while he chewed his cud. That was really nice. It doesn't happen too often. He's a firecracker, he doesn't usually like just sitting still in my lap. He'd rather jump on my back. He did that today too of course. One time, I think it was Mia who chased him away. And I sat in the the doorway of the goat house and blocked his way. So he ran from Mia, jumped up on my back and then jumped off to the safety outside. He's always a ton of fun.
17/9 2019
—
.
Here's Sassy and Lily relaxing out of the rain. See how Sassy is sitting there and the stall door is open? It's a funny thing. There are two stalls in the goat house, but Mia, Milo and Sky still sleep in the big barn. So there's no reason to actually have the stall doors in the goat house closed. Often wehen I arrive in the morning I find the right stall door half open like that, and I always used to think "Why are the staff doing that, the space is much more efficient if the door is open all the way, so it's up against the wall". I suck at explaining things, but you understand? If the door is half open like this then it takes up more space. If it's open all the way then it's up againt the wall so it's like there's just a hole in the wall instead of a door. Anyway, whether you get what I'm saying or not.. .the point is I always thought it was the human staff that left the door half open.. but today I realized what actually happened. The door was completely opened, so it was up against the wall. And Sassy went into the tiny gap.. and with her head she slowly pushed the door to the position you see in the photo. So she could sit in there in there in the corner.
Haha. I am sorry that I explain it so poorly. But it was just really funny when I saw the door slowly opening and realized Sassy was in the gap there and with gentle headbutts pushing the door open. I'm going to stop writing now. I think I got some of it on video, so at some point you might be able to see it on Mia's page.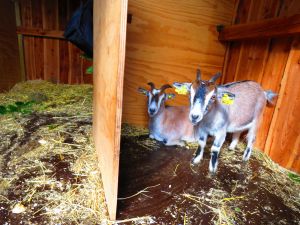 17/9 2019
—
.
Before the rain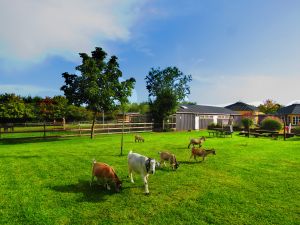 17/9 2019
—
.
Today will be a good day. Happy Hump Day everyone.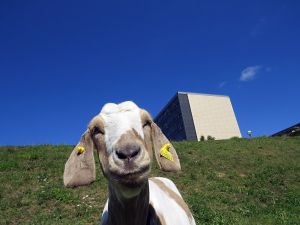 18/9 2019
—
.
goatlog

18/9 2019
—
.
I accidentally took a picture while setting up the camera to film inside during the rain. Looks like Mia was watching me closely.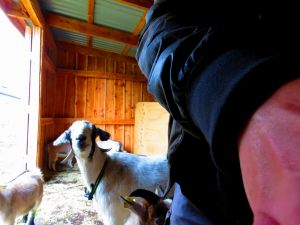 18/9 2019
—
.
Summer is over. It's getting dark earlier and earlier. Even when the sun is out, it's not as warm. I can't sleep without my blanket. It's like I can physically feel the warmth and colour being drained out of the world. I wish I could live in July. Maybe just a snowy December, then July for the rest of the year.

19/9 2019
—
.
Today will be a good day. Here's Mathilde from 2005.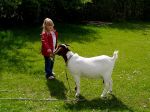 19/9 2019
—
.
Good goat times today. A lovely, sunny day. Cold in the morning, but as the sun shone on it got quite nice. If not quite summery, then at least a lovely, warm autumn day.
'Had to stop off at my parents first to do some tech aupport. They got a new printer and I had to fix it because it wasn't working. Turns out I just had to select the proper printer on the dropdown menu and it worked.
I almost feel bad for billing them $100 for that, but tech support ain'f free.
Just kidding, of course.
Then off to goats and out to he greens. We had several visitors. Little kids. No casualties. Mile stayed vegetarian for the day. One guy with some kids came over and asked if he could ask me a question. Sure, I said. "What is goat poop called?" he asked. Um. I'm so used to calling it goat berries that I very nearly said "gedebær". In the end I realised, I don't really know what it's called. Other than poop. Maybe I should look that up.
We were out by the horse fence again, so to stop the goats from going through the gap and Sassy getting stuck again, I found a pavement slate and propped it up against the gap in the fence. Nuller proceeded to immediately jump over it and through the gap. Sheesh. I thought I'd secured it, but that's goats for ya. I had to remove the slate to get him back out. Oy.
19/9 2019
—
.
Dog! There's a dog! We have to watch the dog until it goes away! Keep watching the dog until it gets the hint!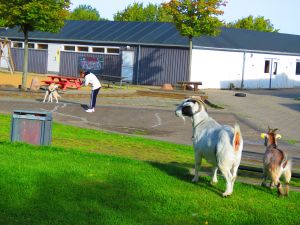 19/9 2019
—
.
Oh dear oh dear. Here's the video from the infamous Sassy mishap. Stuck in a fence. As I say in a comment, it's like watching me trying to get up from a chair after eating pizza. I think I can.. I think I can… I ..'m going to need someone to pull me up. I feel a little bad for laughing and calling her fatty and pulling her. A little.
link: goat video
19/9 2019
—
.
Hulloh?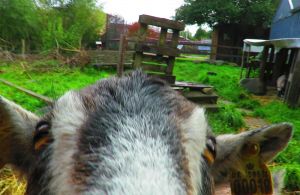 19/9 2019
—
.
Today will be a good day. Here's Thor from 2008.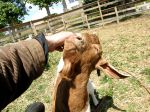 20/9 2019
—
.
I have started reading Alien 3, the William Gibson version. Fascinating. I remember reading about his Alien 3 script back in the day, when I first got the internets. Kids today can't even imagine. Today even the toaster is online. Imagine going from there not being internet to there being internet. Especially for someone like me. By the time I got online, I was pretty isolated in my actual life. And suddenly instead of a claustrophobic little room, there was a big world at my fingertips. People and places to see. And usenet. It barely exists now I guess. But back then there were so many usegroups dedicated to so many topics. That was one of the first things I did, I think. After looking up boobies. Reading all the discussions and information about things I loved. Lost Alien movie scripts. I have vague memories of one Alien 4 script set on a world where everything was wood. And Star Wars. Kids today don't even know, but there was a time when Star Wars was just 3 movies. And fans could spend ages just theorizing and speculating. The music groups, especially alt.music.smash-pumpkins. Connecting with other fans of the band. And the Ultima game series. Before Ultima 9. All the deep lore and references of the games. And then getting your own online journal on diaryland. Deeper connections with real people, several of whomst I still count among my best friends. There was something magical about those early days of online. Deep dives into subjects you were passionate about and connections with people who shared the passion. It's not the same these days. Get off my lawn, kids.
Anyway yeah. Audible has made an audio adaptation of the comic book of the William Gibson Alien 3 script. And that just triggered a lot of memories about reading about that script and other such things. I guess information being scarce makes it more interesting. Instead of being bombarded with loud people on youtube trying to explain everything to you
20/9 2019
—
.
Oh geez, I went on a big ramble about the early internet days and I forgot the whole reason why I wanted to mention that I'm listening to Alien 3 William Gibson edition.
It's because they got Lance Henriksen to voice Bishop! In the William Gibson version of Alien 3 they don't kill off Newt, Hicks and Bishop. I love getting to hear Lance Henriksen. Here are two facts about Lance Henriksen:
1) His last name is the same as my last name and his first name is almost the same as my first name.
2) He's fucking awesome
So. That's what's up.
20/9 2019
—
.
Here is Milo posing with what I thought was the solution to the problem of goats getting into the horse pen. About 5 seconds after taking this, Nuller casually jumped over it and through the gap and into the horse pen.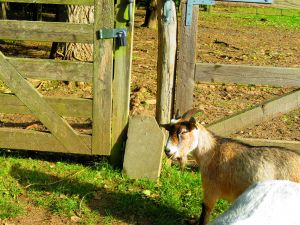 20/9 2019
—
.
Today will be a good day. Here's Bob from 2013.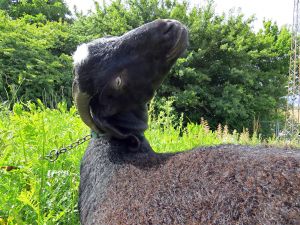 21/9 2019
—
.
goatlog. All the way back from Mia's birthday. I am way behind on things.

21/9 2019
—
.
Looks like someone got biscuits!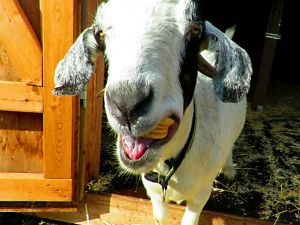 21/9 2019
—
.
Today will be a good day. Happy Funday everyone.


22/9 2019
—
.
goatlog

22/9 2019
—
.
Nuller wants a cracker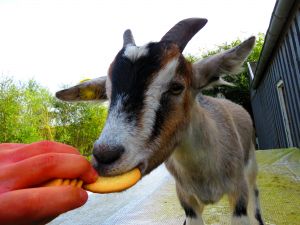 22/9 2019
—
.
Miamor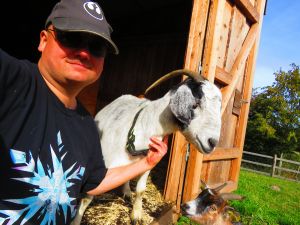 22/9 2019
—
.
The goat place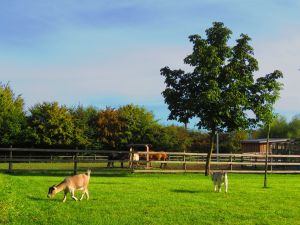 22/9 2019
—
.
.
—
That's all for now.