Today will be a good day. Happy Mio Monday everyone.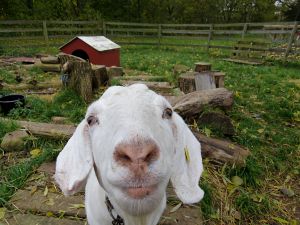 13/1 2020
—
.
ood goat times today. The mud was back to being very muddy. I wish it would spring soon. Although, I guess there will have to be some kind of frost before that. Are we going to get any snow at all this winter? Who knows! Not me!
Got the goats out, but with all that mud they prefer getting into the flowerbeds rather than anything else. Which means lots of me running around trying to keep them out and trying not to have a heartattack. I am not vert fit right now…
We had a cute little visitor. A little girl who stood about face-to-face height with Mia. And her and her mother were giving cuddles to Mia. Reminded me, once again, of how sweet grandma was with visitors. And how after she passed Mia has taken on that role so well. Just standing there and letting the little girl poke and prod her.
I think the girl got a little Milo brawler too, but nothing serious. When they left all the 3 newbies were standing in a huddle, bleating after them. "Come back, you didn't give us treats!"
13/1 2020
—
.
Goat butt parade.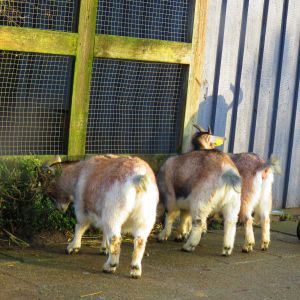 13/1 2020
—
.
Hmm, I wonder what's in there..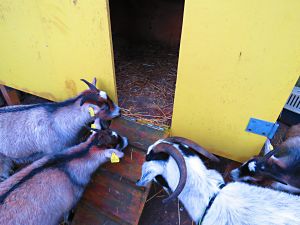 13/1 2020
—
.
Knuckleheads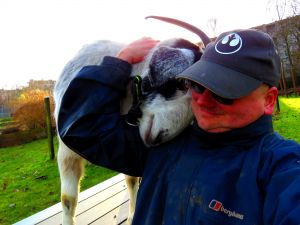 13/1 2020
—
.
Today will be a good day. HappY Yogi Day everyone.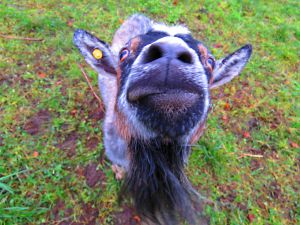 14/1 2020
—
.
… gone a year nowm our Mio. One of the worst days of my life. I miss you, you crazy old goat. Tender and sweet. Stubborn and mighty. Mother and grandmother of countless wonderful goats. A very special lady, and I loved every hefty pound of her.
Miss you, grandma.
14/1 2020
—
.
Today will be a good day. Happy Hump Day everyone. With bonus grandma and Palle.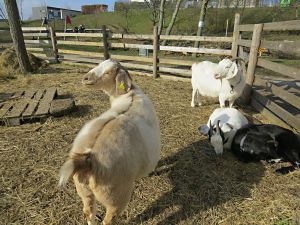 15/1 2020
—
.
I am going to shut down the devices and go offline early today. Planning to sleep a lot. See where the dreams take me. See you some time tomorrow. Dont' forget, the illuminati is watching you. So make sure they're not bored.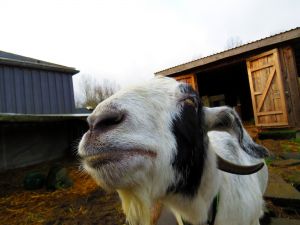 15/1 2020
—
.
Today will be a good day. Here's grandma with Bruce and Clark from 2014.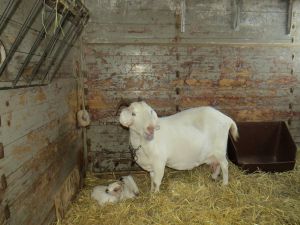 16/1 2020
—
.
Did I thank everyone for your grandma reactions? Thank you everyone for your grandma reactions.
It's a strange thing, the memories. You have to find a way to not feel the devastating pain of loss every time you think of them. It gets easier with time. But sometimes it's like walking a tightrope. You think back on some lovely memory, you look at an old photo or video, and you smile and you feel hte love and happiness. But all it takes is one false step and you fall into a despairing hole. I suppose it's still healthy to fele the pain sometimes, as long as you don't let it overtake you. I prefer to try to think of the happy times. That's why it's nice to have hard drives full of happy moments. I have terabytes of happy pictures and videos. It's a nice thing to have, always a happy memory at your fingertips.
Anyway, I am not sure what the point of this ramble was. Thank you all for taking part in my good times and bad, you are an important part of my experience and memory. I love that I get to share the goats with so many people. Thanks for being part of it, big or small.
16/1 2020
—
.
I think we are down to 3 horses at the playground now. As far as I can tell both Shadow and Luna have left us.
I believe this is Sille on the left. It's hard for me to tell them apart sometimes. But I'm pretty sure it's Sille, not Luna.
And then the two darker horses. When I see them together it's pretty obvious that Black Beauty is completely black (with white spots of course) while Maureen isn't actually black, more like a dark reddish or however you call it.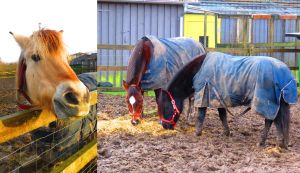 16/1 2020
—
.
And here's a closer look at Black Beauty and Maurren. You can easily tell the colour difference here.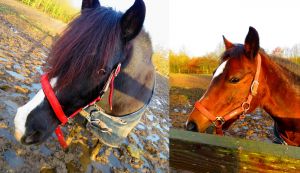 16/1 2020
—
.
Watching you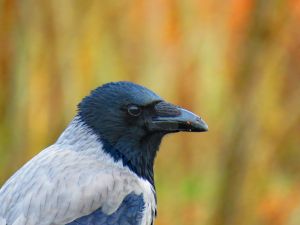 16/1 2020
—
.
Today will be a good day. Here are the Ping Pong twins from 2016.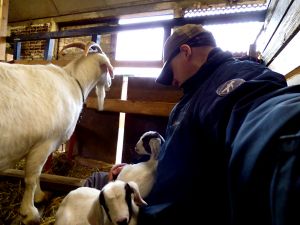 17/1 2020
—
.
Good goat times today. I wasn't feeling super well. Kind of dizzy and it felt like time was looping in on itself and all the colours had smells. I don'tk now. Not sick, just a weird feeling.
Of course, as soon as I got to the goats that all melted away. It's like when there's a lot of noise in your building and you put on some white noise to drown it out. I like putting on a 12 hour loop Enterpirse engine noise. The goats drown out all unhappiness and worry, like magic.
Sunny day. But lots of mud. So much. There was some kind of happening going on at the playground. Lots of parked cars and bikes and people inside. I'm not sure what they were doing. A couple came out to say hi to the goats. We got a bunch of new christmas trees too. I spent some time dragging them around. People just throw them over the fence, since the gate is locked. But that means they end up lying in the mud and wed grass. So I like arranging them beter. Putting some on the pile of branches so they're off the ground. Some in the gaot house, some in the shelter. One under the goat house where Sky likes to sit. Gives the trees a chance to dry and the goats have several spots to snack on them so everyone gets a chance.
17/1 2020
—
.
Goat butt parade.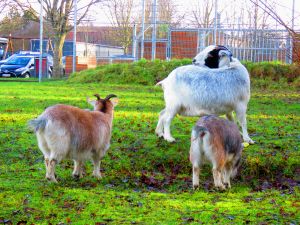 17/1 2020
—
.
Milo and Sky, keeping an eye on the cars.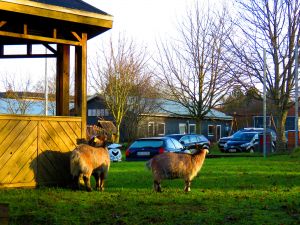 17/1 2020
—
.
Here's teh christmas tree halfway under the goat house. Kids are already hard at work on it.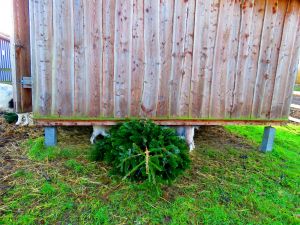 17/1 2020
—
.
Today will be a good day. Here's Preben from 2012.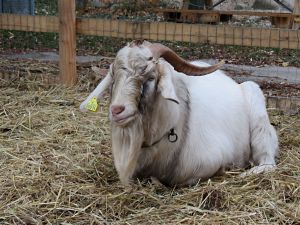 18/1 2020
—
.
Good soup times today.
My brother's birthday is on Monday, so we all got together for a soupy celebration today. Yum yum. Good stuff, and now I have soup leftovers for a few days. The gift that keeps on giving.
I was there on another errand too, but I'll write a bit about that later on I think. For now, happy birthday Peter and happy soup Lasse!
18/1 2020
—
.
So, the other reason I was over at my parents' today was computer duty. They have been running a Windows 7 system, and hashtag RIPWindows7. So I helped them find a new computer and was going to set it up for them. Running Windows 10. Hashtag RIPMySanity. It did not go as well as I'd hoped. Even backing up the stuff from their old computer took way longer than I'd expected. And then hooking up the new computer and setting up… Jesus christus. i'll spare you the 50 paragraphs of rants about Windows 10.
My original plan was to get the computer sent to my place and set it up here and then have it moved over to my parents's place. I probably should have done that, because it would have been much nicer working on it at home with plenty of time. It's just kind of painful to try to get everything to work when you literally can't see the screen… Face right next to the screen with a big magnifying glass.. slow and annoying and difficult.
I spent hours on it and still didn't really get it finished probably. There was some kind of network problem. The internet connection would work for a minute, then drop out for 30 seconds, then work for 30 seconds and on and on. I also didn't get the printer to work.
I'm hoping the internet problem will magically fix itself.. maybe the router needs to.. get adjusted to.. windows 10… it could happen!
Well whatever. I'll need to go back to do more work on it all.
Hopefully I'll get it all working okay. Maybe we'll need ISP support, we'll see. I'm glad I can help my parents with it, though. They help me with so much.
And also, soup.
19/1 2020
—
.
Visually impaired working on Windows 10, it feels like you're standing at the bottom of mount everest defending yourself against an avalanche with just a rolled up niewspaper.
NOT TO BE DRAMAT
19/1 2020
—
.
Thirtysomething years later this still pops into my head every now and then.
You kids can keep your nintendostationboxes.. Commodore 64ever
://www.youtube.com/watch?v=CWkT180hNLE
19/1 2020
—
.
And if you're here for the goat content. Here's Nuller and Lily shooting a commercial for Apple.
Call me, Apple.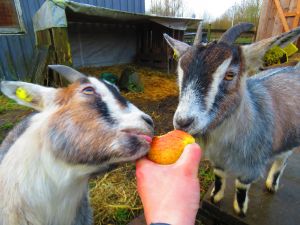 19/1 2020
—
.
Today will be a good day. Happy Funday everyone.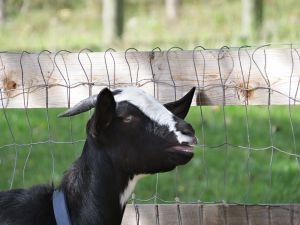 19/1 2020
—
.
It's soup o'clock.
yummy yum yum video
19/1 2020
—
.
These aren't the grapes of wrath, are they?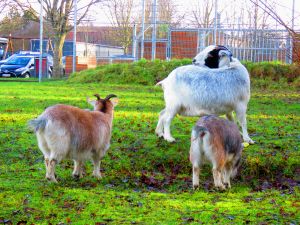 19/1 2020
—
.
I don't think Nuller has ever tried grapes before. Do you think he wants some?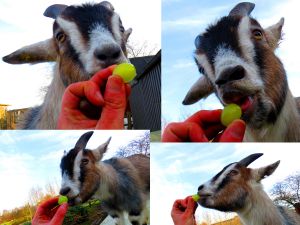 19/1 2020
—
.
Sassy's trying out a grape too.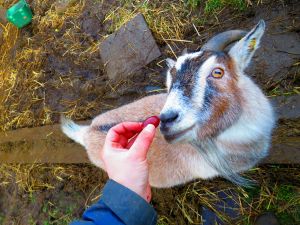 19/1 2020
—
.
I am tuning out for today. Not gonna lie, the parental computer problem is stressing me out a bit. Also *points at everything* the world.
I'm gonna go on a dreamquest. Please enjoy this Nuller while i'm away.


19/1 2020
—
.
.
—
That's all for now.