Today will be a good day. Happy Mio Monday everyone.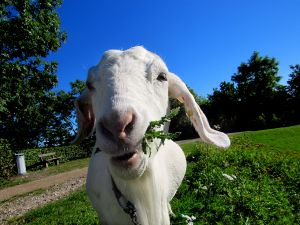 6/1 2020
—
.
Listening to music to drown out the voices in my head
6/1 2020
—
.
Oh no, Sky. Did you have a little accident? Oh wait, that doesn't look like goat berries..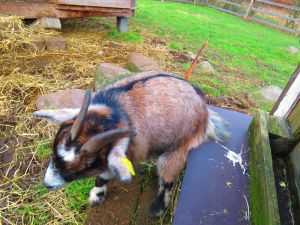 6/1 2020
—
.
I have not been feeling super great today. Sad and tired and the world is on fire and war and disaster and I just want to go back to my dream of the beach.
Sometimes I don't know if it's the depression or the reality that's getting to me.
Hopeless hobo shapeless hippo homeless mofo
7/1 2020
—
.
Think goat thoughts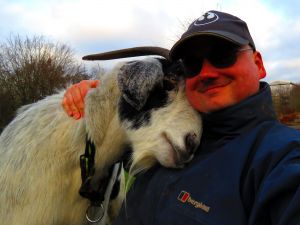 7/1 2020
—
.
Today will be a good day. HappY Yogi Day everyone.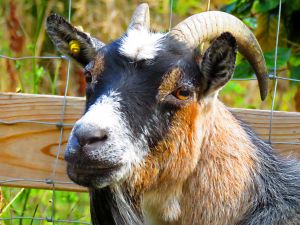 7/1 2020
—
.
Good goat times today. One of those days where I had to force myself out the door. It's always worth it, seeing the goats. But it's still hard when depression is telling you to go to bed.
But I got out and had fun. Right from the get-go. I guess I didn't close the gate properly when I went in to put my backpack in the goat house. Because suddenly I heard laughter from some people walking down the path next to the goat pen. "You know the goats are out, right?" someone said to me. Yeah, either the gate swung open or they pushed it open. Because they were already heading out.
gotta keep the human on his toes.
Jacob was walking around with a group of people, they were on a tour of the place. So they got to say hi to the goats too. And there were some visiting kids too. They got to pet Milo. Without incident. Mostly because I was scratching his rump while they were petting him. If I keep him preoccupied with scratchies then he usually behaves. So those kids didn't even know how lucky they were. 1 they got to pet Milo, and 2 they didn't get mauled by Milo.
Not too bad. The best place to be to forget your worries.
7/1 2020
—
.
Ps. My goat's breath smells like pine.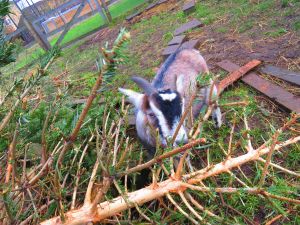 7/1 2020
—
.
Btw, I know gobal warming is a hoax made by the Chinese to scare Americans into buyin exttra sunscreen,
but it's been a warm winter so far. Looking at the 9 projection forecast thing, there is not a single day below 5C/41F. This is the middle of January. January and February are usually our coldest months. I'm sure the cold will come in at some point, but I can't remember a single day below zero this winter, only a few nights. I haven't had to wear my skull cap under my regular cap or my gloves. Let alone my battery heated underwear.
So, thank you coal miners and farting cows. Keep Denmark warm. But lay off Australia, plz.
7/1 2020
—
.
The High Republic?
Star Wars gon get blazed yo. Puff puff.
7/1 2020
—
.
Goat butt parade.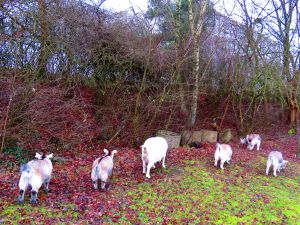 7/1 2020
—
.
Hmm, the door is open! Dare we go in?
Funnily enough, Mia, Milo and Sky sleep in there. But they usually go out through another door. So I'm not sure they realised that it's actually their own bedroom in there. They are so sensitive to changes and things our of the ordinary. Mia was staring in through that do for a long time. Is there food or danger?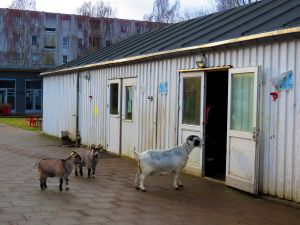 7/1 2020
—
.
Today will be a good day. Happy Hump Day everyone.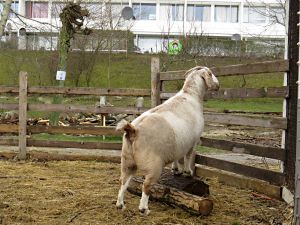 8/1 2020
—
.
War, never been so much fun
go to your brother kill him with your gun leave him lying in his uniform dying in the sun

8/1 2020
—
.
goatlog

8/1 2020
—
.
This is one of Sky's favourite places to stand. Out of the mud, away from the newbies. On the tire in the corner.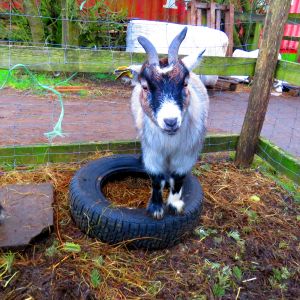 8/1 2020
—
.
Fell into a latenight youtube portal watching old cartoons. Transformers, Masters of the Universe, GI Joe. That stuff wasn't aired on the one/two national channels in Denmark when I was a kid. Only on satellite chanels. But sometimes when we went on summer vacation to Sweden, or other places, we could get those channels in the summer home. So there's a huge sense of summer vacation nostalgia connected to them now. I collected all of those toys, but rarely got to watch the cartoons.
And I know the cartoons are kinda crappy. But. To me they still look better than the modern cgi stuff. Just like the old Disney movies. Not that cgi stuff can't be good. But I just prefer the hand-drawn look. Even the crummy hand-drawn look.
Yeah yeah, everything is better today. BUT DOES IS IT?!
Get off my lawn etc.
9/1 2020
—
.
Today will be a good day. Here's Magnethe from 2006.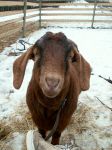 9/1 2020
—
.
Sassy vs Gravity 2: Too Much Junk In The Trunk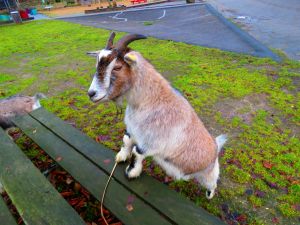 9/1 2020
—
.
Well, I'm not feeling so great. Sad and spiritless. The world is going to heck. Yeah, I said it. Heck. Heck I say. 409 que? i'm tired of it all, and making bad choices and I'm tired. Going to go dream it away. If there's one think i've learned in life it's that not facing your problems is the best way to solve them!
See you tomorrow for breakfast in the bunker #WW3
lmb
9/1 2020
—
.
Today will be a good day. Here's Mads from 2005.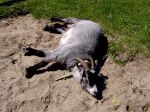 10/1 2020
—
.
Oh the dow is up? I guess we don't have to care about the refugees, the nazism, the misoginy, the environment. It's like Jesus always said 'get paid and fuck the weak and the poor', You can learn to tolerayte a lot when your heart is just a greed machine. Now let's send all lower classes off to war so we can create some more generations of vets to ignore. They shoulda invested in 409 que down if they wanted to be able to treat their ptsd.
10/1 2020
—
.
You gotta be a goat to get this close to me.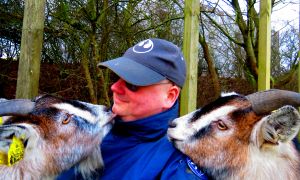 10/1 2020
—
.
…whereas the only republican heads exploding are their kids getting shot in school smdh
10/1 2020
—
.
Nuller on a lifeboat in the mud.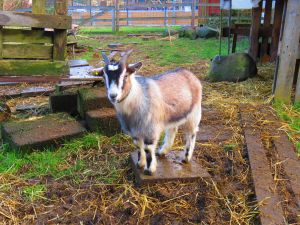 10/1 2020
—
.
The Good Place is back. Suck it, reality.
10/1 2020
—
.
Goat butt parade, with human conductor.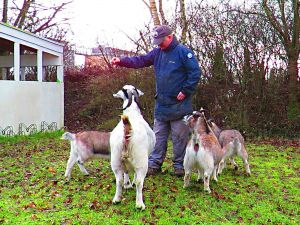 10/1 2020
—
.
Thank you so much Keiko Murakami ! I love your drawings so much. As you also said in the card, the auntie one is one of my alltime favourites as well. Happysad wonderfulness. I hope the goaties smile when they think of me… And then baby uncle in the pizza box haha. And season greetings from the drummer Cash. I do love a good goat pa rump. You always make me happy with your art, I am greatful to be the recipient of such lovely pieces!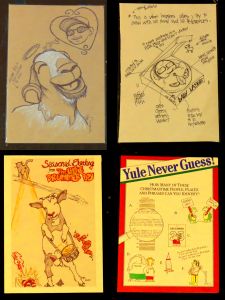 11/1 2020
—
.
Personal space is overrated.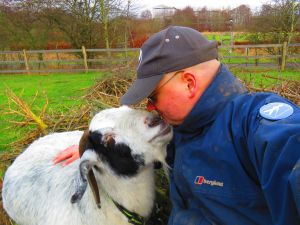 11/1 2020
—
.
Hey, remember Too Many Cooks?
If you did, then I just fixed that for you!
11/1 2020
—
.
Shutting down the devices early today. You kids behave while I'm gone. Don't make me turn this timeline around. I'll do it. I will not tolerayte any mishbehyour. This is your final warning. Dont' test me. i am untestable. I am detestable. I will not be mocked. THESE PRETZ
11/1 2020
—
.
Today will be a good day .Happy Funday everyone.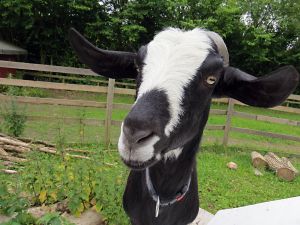 12/1 2020
—
.
My sincerest grattitude to Shauna Hackler and Beverly Fish for the lovely cards! Thank you for thinking of me and giving me a reason to smile. Love your lovely little goaties, Shauna, and your sweet, sweet thoughts, Bevely!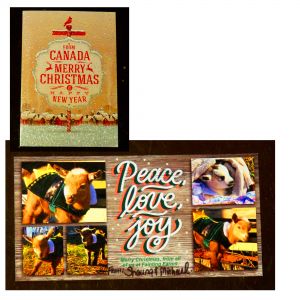 12/1 2020
—
.
goatlog

12/1 2020
—
.
What does Thor the god of thunder have in common?
The hammering, I imagine. Constant hammering.
12/1 2020
—
.
Where's Sky?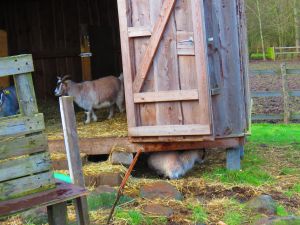 12/1 2020
—
.
That's not how you use a table, Mia.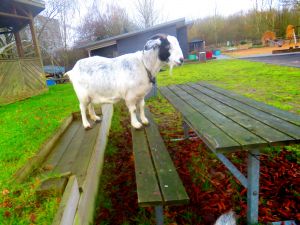 12/1 2020
—
.
.
—
That's all for now.