Today will be a good day. Happy Mio Monday everyone.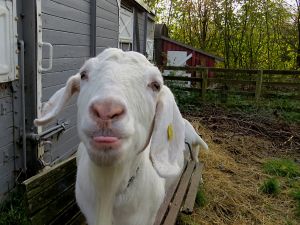 27/1 2020
—
.
Back home after another tech support trip to the parental abode. Still internets problems. After my last attempt, the problem went from constant disconnections to intermittent disconnectinos. Which is progress. But it also makes troubleshooting harder. It's easy to see that you haven't fixed the problem if you lose connection every 30 seconds. If it's every 10 minutes then it's harder to know if you've fixed it or not. Well, we bought a new networking cable so I hooked that up and switched some ports. I'd be surprised if the problem is fixed. But hey, hooves crossed. I'll just have to wait and see what they say. It worked while I was there.
Also installed the printer. I was expecting problems with that, since it was hard getting it to work on the old Windows 7 system, and I couldn't get it working when we installed the new Windows 10 pc. But today I got it working, so that's good. And installed Open Office so my dad can do his writing stuff.
Even if everything works now, I'll still have to do some polishing and management. But it sure would be nice if the internets would work thanks world.
27/1 2020
—
.
Did you bring the marshmallows?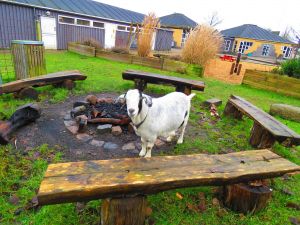 27/1 2020
—
.
Counterpart is coming to Amazon Prime in February. So if you want a TV recommendation from me. It's Counterpart. I loved that show. I'm sad they didn't get to go on, because the world they built was fascinating and I would have loved to see where they'd take it. But they did bring the story to a satisfying end and it's full of good performances. Kind of a scifi spy thriller. But it's got a real neat premise that I can't really mention without spoiling it, but it really makes for some fascinating world building and storytelling. Two thumbs and a goat tail up from here.
27/1 2020
—
.
Milo is hard at work getting the table cleaned off before the next guests arrive.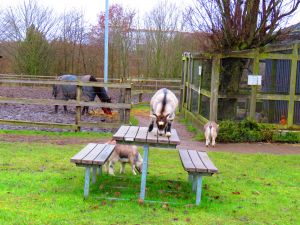 27/1 2020
—
.
Duck's off, sorry.
27/1 2020
—
.
Today will be a good day. HappY Yogi Day everyone.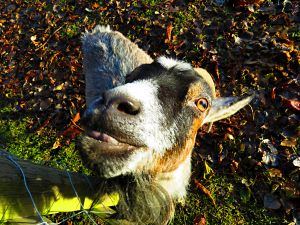 28/1 2020
—
.
So. Maybe I should just ignore it away.
But for the record. I deleted my Kobe Bryant post. Because, I did not know about the rape thing. I would not have posted it if I had known.
Now honestly, I have no interest in basketball or Kobe. It means literally nothing to me. What got to me was the whole "young man who was a hero to so many dies in a helicopter crash with his daughter, leaving behind a mother/wife and 3 other daughter". I still find that very tragic, when I think of the daughters left behind.
It's a weird thing to have the whole world light up in hero glorification and mourning, and then kinda bury the other thing. And I don't even know, I don't know the truth.
People die all the time, and it is sad. I was just looking at Fawlty Towers retrospective and there popped up Terry Jones. There was someone I cared about, there was someone who touched my life. If Kobe meant something to you, I'm not gonna tell you he shouldn't. I'm not gonna tell you anything. Cos I don't know. We got a guy running America who could be a posterboy for rape culture. Bill Clinton too.
I don't know anything. I just don't like to see my friends fighting on my posts. It pains me.
So that's what I have to say about that.
28/1 2020
—
.
I'm just here for the goats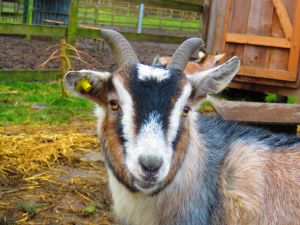 28/1 2020
—
.
Oh don't worry about the Corona virus, we got Gofundme, member.
28/1 2020
—
.
Treating Lily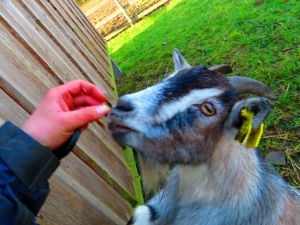 28/1 2020
—
.
No trouble
28/1 2020
—
.
I'm not saying I'm a masterchef or anything, but when I put spaghetti into a pot of boiling water… well let's just say it almost always turns out edible.
29/1 2020
—
.
Today will be a good day. Happy Hump Day everyone.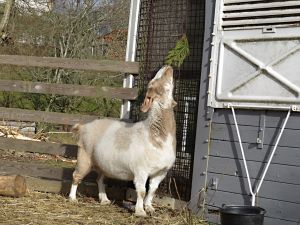 29/1 2020
—
.
Oh hello world. I just spent almost 30ish hours in bed. Because I make smart choices.
The depression got to me. On the plus side I had numerous excellent dreams, I even appreciate the terrifying Twin Peaks dream. Finding it harder to stomach real life. No matter what happens in dreams, they still get wiped like an etch a sketch at the end of the night. I appreciate that.
Well, let's go reality I guess.
30/1 2020
—
.
In better news, it seems that my parents' internet issue is fixed. I guess getting a new networking cable and changing ports on the router worked. I can't tell you how relieved I am about it. I have been stressed and depressed about it. Hopefully everything is working fine now.
30/1 2020
—
.
That thing when Facebook reminds you that it's "Data Privacy Day". Lol.
30/1 2020
—
.
Let Sky take the wheel.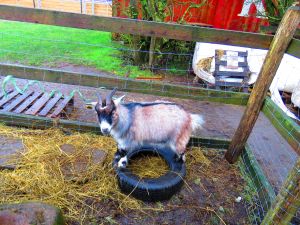 30/1 2020
—
.
I find your lack of cake disturbing.
31/1 2020
—
.
Today will be a good day. Here's Large and Medium from 2013.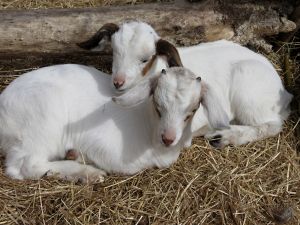 31/1 2020
—
.
Good goat times today. Finally back where I belong. Glad I didn't manage to talk myself out of going. My fitness is in poor shape, though. I need to get back to using my exercise again. I've been too depressed to do it for quite a while. Makes the walk to the goats a lot harder.
But with the goats all the worries melt away. Apart from the mud. Very mud. But we got out. Had some fun at the fence with kindergarteners. They wanted us to come over, so I got the goats to come with me to the fence. There was couple of adults and a handful or more of kids. They were asknig questions and went and got a camera and took pictures. They also gave fruit to the goats. When they ran out, one adult said to the other "go get the fruit from the kitchen, pleeeease". Haha. I hope the humankdis weren't hoping for fruits today… they all had a good, surprised laugh when Mia ate a banana peel. So that was a lot of sweet fun.
31/1 2020
—
.
Goat butt parade.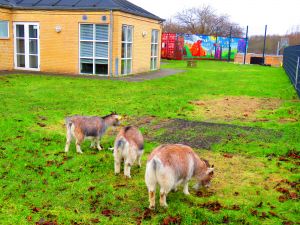 31/1 2020
—
.
Entertaining at the fence.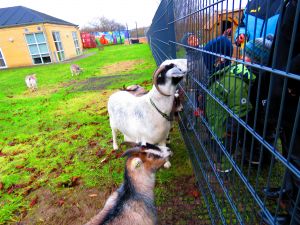 31/1 2020
—
.
Oh dip. I'm not ready to let go.
So I just watched the finale of The Good Place. I knew I was going to like it. I figured I'd probably get a bit emotional. I did not think I would be ugly crying.
I remember when it started airing. I hadn't heard anything about it at all. But as you know, I have a thing for Kristen Bell. So I figured, eh I'll look at it. I did not know how amazing, wonderful, funny, sweet, heartful, thought-provoking it would be. So smart, so surprising. So full of love and hope for humanity. I can't say enough good things about this show, it is utterly wonderful.
THEY HAD A DANISH CHAIR IN THE FINALE.
I mean. How do you even
And I'm not sure any TV show has stabbed me harder in the heart than Kristen Bell going "I was alone my whole life. And I told myself I like it that way. But I don't.".
Like looking in a forking mirror. One of those mirrors that makes you look way, way more attractive than you really are to trick you into buying a sweater, or something. You don't know, man. Unless you lived it. You weren't there.
That, and seeing Ted Danson with Mary Steenburgen were my biggest crys.
Standing ovation for this show. Can't recommned it enough. I wish I could wipe my memory so I could watch it again without knowing the amazing twists along the way. I can't think of any other show that so effortlessly teinvents itself constantly.
Okay, I'll shut up now.
31/1 2020
—
.
Today will be a good day. Here's Magnethe from 2005.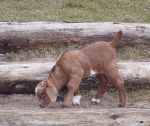 1/2 2020
—
.
goatlog

1/2 2020
—
.
I dreamt that I met Ted Danson and thanked him for The Good Place and Cheers.
That's an extremely simplified version of events, but it was still nice.
1/2 2020
—
.
According to the Danish Weather Institute, this January has been the warmest and wettest January in recorded history. The ten day forecast shows all temperatures well above zero. It may in fact turn out to be my first winter with no snow days.
Go go coal!
1/2 2020
—
.
Did a bit of exercise today. For the first time in months. I tell you what, you can really feel how you lose fitness. I used to be able to go for an hour or two and enjoy the effort. Today I struggled to get through 20 minutes. But hey. It's better than none. Hopefully I can keep at it. I don't need to get in great shape. I just need to be able to walk to the goats without feeeling like I'm having a heartattack.
1/2 2020
—
.
snoot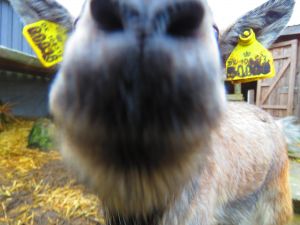 1/2 2020
—
.
I hereby announce that I am withdrawing from reality. #Laxit
1/2 2020
—
.
Did you know that the Danish word for 'sinus' is 'bihule' which literally translates to 'bee cave'.
So there's that.
2/2 2020
—
.
Today will be a good day. Happy Funday everyone.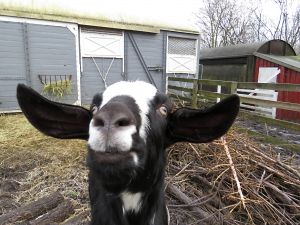 2/2 2020
—
.
Thank you very much Beverly Fish for the valentines card! You said it's 'your attempt at a goat card'. I think it turned out great! Thank you so much for the sweetnes <3!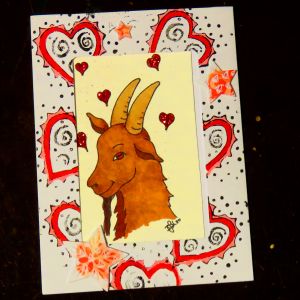 2/2 2020
—
.
Mia, ever the perfect goat ninja, is perfectly hidden and cannot be seen in this photo.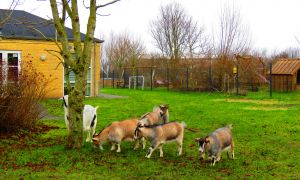 2/2 2020
—
.
Happy 02022020. Or as Bender would say, the devil's day.
I am going to bed early to see what dreams may come. Good luck to your sportsteam if you follow the sportsball. I also can't wait to see those inbetween time sportsbowl commercials for things I'll never buy. Not to mention the rhythmic performances by singers I don't like. It sure is a thing that's going to happen alright.
We all know the game is rigged tho, they aren't even calling in witnesses.
2/2 2020
—
.
.
—
That's all for now.