Guess what I did today?
I went and looked at an appartment, I did.
I came home from feeding the animals and said to myself, I said "I gotta do this". So I got out one of those many letters I received. Most of them have phone numbers for the person currently living in the appartment. So I called and asked if I could drop by and check out the place. "Sure, when?". "In half an hour, if that's okay". "Sure". When I finally act, I act quick.
All the letters I got were basically for two types of appartments. One type was 3/4 rooms and expensive. Too expensive. So I have weeded those out. The rest were 1 room appartments. I really was looking for a 2 room appartment. My brother has a 1 room appartment and it's tiny and cramped and not nice at all. But the ones I've been offered are "big 1 roomers". So that's what I really had to find out, if they were big enough for my needs.
And the conclusion? I think they are. It looked pretty decent. I'm thinking of saying yes to it. I wouldn't be guaranteed to get it, but being 6th on the waiting list gives me a really good chance.
Opinions are somewhat divided in the family, though. My dad thinks I should take it. My mother doesn't think I should get a place so soon, not until I get my retirement. I can see the sense in that. All my calculations about rent etc have been made with the figures I'll get from retirement. I was thinking of using some of the money in my savings account if I needed to cover some of the rent until then. My mother doesn't think that's a good idea, she thinks that should all go to furniture and downpayment and all that. She's probably right. I should probably wait. But.. that would be to the end of the year, earliest. I don't want to wait that long. I don't want to live at home for another 6 months. If I say yes to this then I could (potentially) be living on my own in 1 month. That's what I want, really. But is it smart? I'm not 100% sure to get retirement. And who knows when I'll get it? And who knows what appartments will be available when I do?
Anyone care to offer opinions or advice? I have to answer on Monday the latest, so there is just enough time to influence my choice if you care to dare. Take it or leave it.
It was quite scary to call the guy. I make it sound like it was a spontaneous decision, but I had actually done a little research the night before. I had looked up some of the phone numbers on the web. The guy I ended up calling had a myspace musician page, which I thought was quite cool. And he was friendly and helpful. I was deadnervous, but tried to ask some practical questions. It went alright. All I really needed was to get an impression of the size of the place. Only one room, but there was a sort of alcove thing so it was almost split into two. A little seperation between the sleeping space and the living room. That's good. I asked him about the neighbourhood, you hear so much about all the trouble in those places. He said there had been some trouble in the past but not anymore. It was pretty quiet. There was actually a little kindergarten in the appartment next door, which had scared him at first. But he said there was no noise from it. The insulation is pretty good, so you don't hear your neighbours. That's good. It's been one of my worries about living in an appartment block like that. Having people all around you, that freaks me out. But his place was at ground floor so at least no people below.
Picture: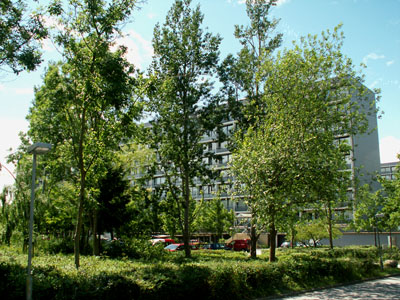 There behind the trees, that's the appartment block. With lots of blocks around it. By Danish standards it is a "ghetto" area. It's close to City Vest, though. A huge shopping center with lots of different stores and supermarkets. And the bus stop is practically right outside the front door which would be handy for going downtown or taking the bus to the playground. It's close enough that I can bike there, though, so that's good too.
Yeah, yeah, yeah. I don't know. I don't know. Shouldn't I or shon't I. It is scary too, putting it off is tempting. Wait and hope for something better. But I need to get out of this house too.
I don't know, I don't know. Maybe I should just say yes to his appartment and then wait and see. Maybe I won't get it, then the decision will be forced upon me. I don't even know if I'm allowed to say yes to multiple appartments. There are 4 of those one room appartments. Two of them on ground floor, I was thinking of saying yes to both of those and then turning down the two others. I gotta look at their website and see what the rules are. What if I say yes to both and get both, then they'll probably get mad and shout at me and try to cut off my fingers for revenge. Or maybe I'll just get to pick the one I want and the other one will be given to the next on the list. I don't know.
Being an adult is such hard work.
But I'm not going to think about it anymore tonight. Instead here are some animals to take my mind off things.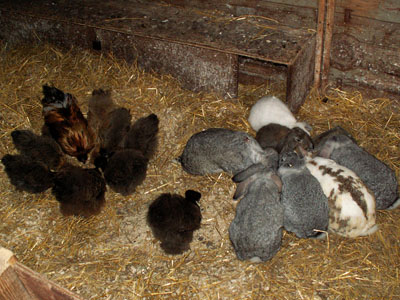 Feeding time. Chickens on the left, bunnies on the right.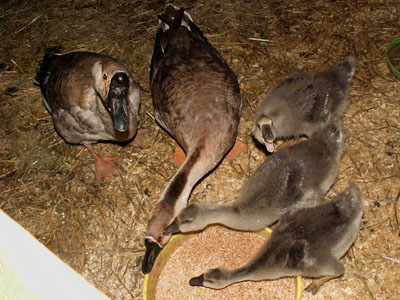 And the geesers. The geeselings were squeaking and squawking and making a fuss. I'm not sure if they were being defensive or if they were excited for the food.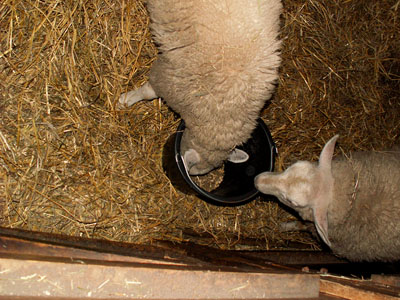 The lambs, gorging on a bucket full of human entrails. That's the only way to pacify them and keep them from hunting down kids.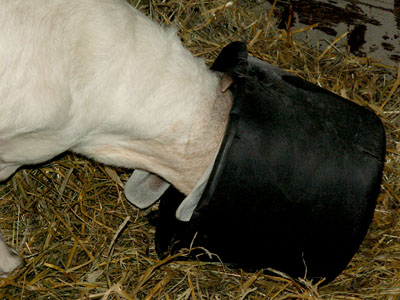 Who is that with her head in a bucket? Could it be Vanilje, the bucketeer? I think so. Maybe I should start calling her Mrs Bucket. Pronounced "bouquet" of course.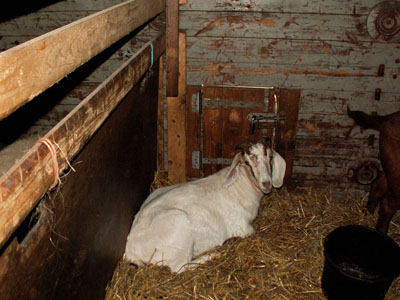 And then resting. It's a tough life, being a goat.
Fin.