I got the paperwork for my appartment today. The lease contract and downpayment stuff. Good timing, too. I was going to call them and ask. In fact I was going to call yesterday. But then for some reason I stopped myself and said "Ah, I'll wait one more day". And then today it came in the mail.
Actually I ended up calling them today anyway. They have my middle name wrong. So I just wanted to make sure that it wasn't a problem. And it's not. I just gotta fill in all the forms and ignore it. And then at some point go down to their office with some "proof" that my middle name is in fact Linno, and not Ninno. Yup.
Also paperwork for the "boligstøtte". Not sure what that is exactly in English? House support? Rent support? Yes, rent support is probably closest. Because.. it's support.. for the rent. I'll get some monies to help pay the rent. Not a lot though, since it's a cheap appartment in the first place. When I get my retirement (fingers crossed) my rent support will go up a bit too, so that'll be nice.
Tomorrow I'll go to the bank and pay all the bills. I'll be transferring the money from my savings account. Did I mention it's a special account where I get 4% bonus if I spend the money on moving out/house/furniture etc? Finally I'm going to get to use it. Once upon a time I thought I'd never be moving out and my precious 4% would be lost!
Yes, it's all falling into place now. In exactly three weeks I'll be moving. Wednesday August 1st.
Meanwhile, in the goat office.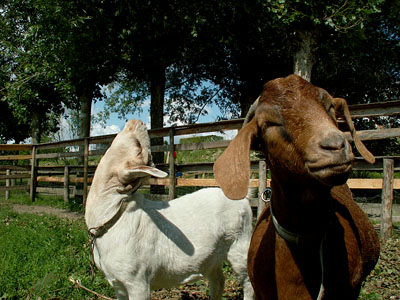 Sisters are doing it for themselves, apparently.
Mads with a headful of hay.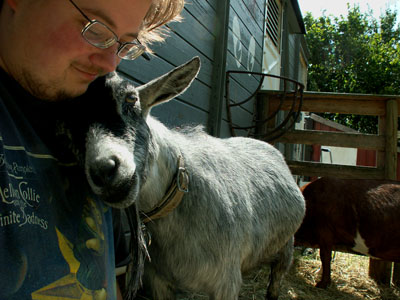 And a headful of me.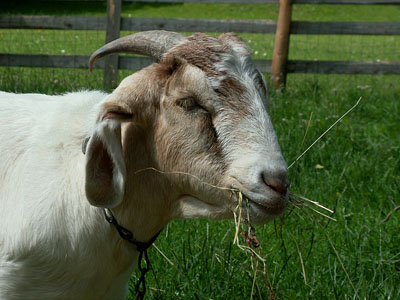 Vanilje and hay. Hay hay, I sense a theme.
http://youtube.com/watch?v=sKC3LJuu9-I. Video in keeping with the theme. Lasse, the intern, dumps a stack of hay for the goats. Much munching ensues. Then Vanilje gets rather agitated when she hears someone inside, she probably thinks it's feeding time. But it's not, and the hatch won't open. She's making a big fuss though, lots of jumping around and baahing. And then some visitors come by. And then Kurt comes by with a bunch of leaves and branches. He was trimming bushes. And the goats got the leftovers. Kurt says "unfair competition", because even though the goats tolerate my company I still can't compete with lovely, munchable leaves.
Oh and I heard Kurt say to the visitors that he's expecting Magnethe to get kids on the 1st of October. So that's.. a long time yet. But ooh it'll be a treat.
Also,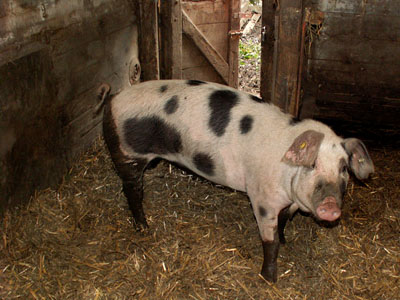 is it me or have the piglets gotten gigantic? I don't remember them being that big. Hmm. I wonder if someone has been feeding them nuclear waste. You're not supposed to do that. Haven't you seen any 50s monster movies?!
Hey hey, that's all for today.