Today will be a good day. Happy Mio Monday everyone.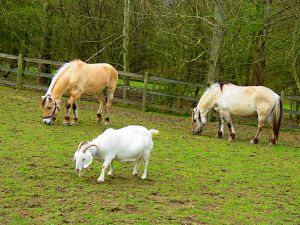 2/9 2019
—
.
Good goat times today. The temperatures have dropped below 20/68. Summer is over. But we got a lot of sun today, so it still felt pretty good. Got the goats out and we went into the gap between the horse fence and the trees along the path down past the goat pen. A nice little tight space, which suited me because I wasn't feeling super great. So it was nice that I didn't have to chase the goats around everywhere. And they got their fill of greens. Plus we got to say hi to the horses. I forgot how farty they are. One of them farted raelly loudly and I turned my head and there Mia popped out of the underbrush with a comically startled face. Haha. I wish I'd had the camera rolling.
Then into the pen to relax. Super sweet time with Mia on the bench. I think she may have taken a little nap. I was craddling her head in my arms and felt it get heavier and heavier while I sat and listened to her little snorry sounds. Perfect bliss.
2/9 2019
—
.
Farty McHorseface wants some greens too.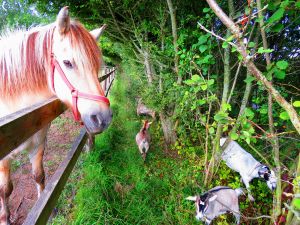 2/9 2019
—
.
Sassy's got a mouthful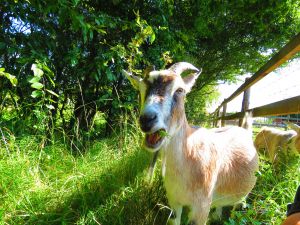 2/9 2019
—
.
I fell asleep in my comfy chair for a couple of hours. Napping like a goat in the sunshine. I guess I'm staying up now then… my sleep schedule is crazier than a presidential twitter feed.
3/9 2019
—
.
Today will be a good day. HappY Yogi Day everyone.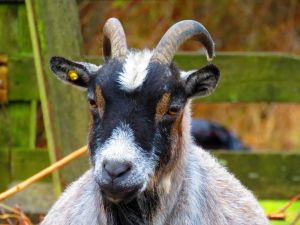 3/9 2019
—
.
It really dubi dubi dubi like that sometimes

3/9 2019
—
.
Snuggler's paradise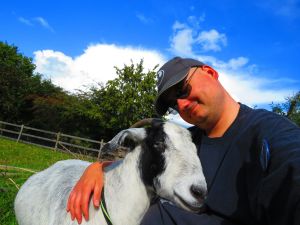 3/9 2019
—
.
Today will be a good day. Happy Hump Day everyone.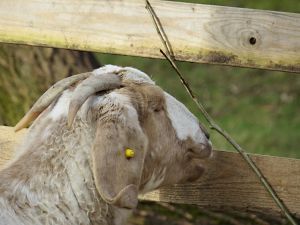 4/9 2019
—
.
Feels like running out of road
4/9 2019
—
.
Goat thoughts, with Lily and Nuller.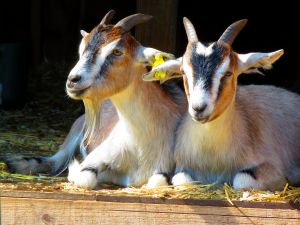 4/9 2019
—
.
Here's a fun little goat thing. The way Sky was moving reminded me of the Littla Man From Another Place dancing on Twin Peaks. So I had to put some TP music on it. Audrey's Dance fitted really well, unfortunately Facebook blocked the upload though. So I had to redo it with a slowed down version of the son. The original was a bit better, but it still amuses me.
Oh and thef first time I posted the original video, a few days ago, I think I said it was Milo. Goes to show that even I get them mixed up now and then. Easiest way to tell it's Sky is that she doesn't have a beard.
The goats are not what they seem
link: Sky dance video
4/9 2019
—
.
Today will be a good day. Here's Medium and Large when they were tiny, from 2013.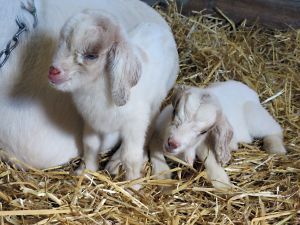 5/9 2019
—
.
Good goat times today. A cool and grey morning. We got some sun along the day, which was nice. Then it started raining as I walked home. Ah weather, you're so weathery.
Out in the greens and around the yard with the goaties. Nelly came out with some of her kindergarteners. That's always fun. Nelly's great with the goats. Bringing down branches so they can eat the leaves, and jumping up at her. With kids running around screaming, half joy halt terror. Nelly promising to protenct them from "the evil one". Haha. I don't like to foster the stereotype of goats being satanic, but I wouldn't be surprised if some of those kids think Milo is a little devil.
And then relaxing in the pen with the goats finding their favourite spaces. Milo often goes for the bench. The newbies almos always in the goat house. Sky and Mia trying to decide who gets the Sky-sized platform. Buncha sweeties.
5/9 2019
—
.
Here's Nelly and the kids helping out the goats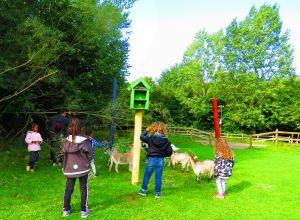 5/9 2019
—
.
Another one of Nelly and the kids, goats and otherwise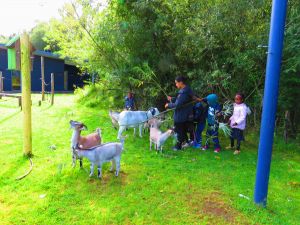 5/9 2019
—
.
Speaking of Audrey's Dance, it's easy to forget how amazing the Twin Peaks music is.
Lol no it's not. Twin Peaks was gone for 25 years and never did I once forget how great the Twin Peaks music is. All those years, that music stayed with me. So beautiful, so haunting. Some of the songs just break my heart every single time I listen to them. And some of them scare the living daylights out of me.
If you ever want to murder me and get away with it (rip Columbo), just sneak into my bedroom at night and put on the Twin Peaks soundtrack on repeat. Not even loudly. Just quietly. so it seeps into my dreams. If I don't heave a heart attack in my sleep I'll have one when I wake up and hear it playing in my bedroom.
It's perfect, beautiful, amazing music. And it's intertwined in my head with weird, wonderful images, characters, stories, palces, coffee, pie, owls, trees, logs, e lec tri ci tee. Twin Peaks is an uneven journey, but it's fucking amazing and I love it. And these days, when I purposefully stay in bed for 20 hours to cultivate dreams, it speaks to me even more.
Are we falling?

5/9 2019
—
.
Today will be a good day. Here's Popcorn from 2015.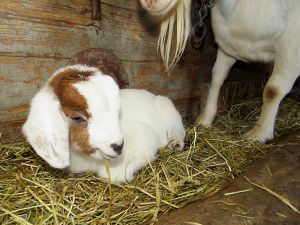 6/9 2019
—
.
It's always funny trying to pick out a thumbnail when making goat videos. I especially enjoy trying to pick out the silliest frames in the tomato time videos. Mia with a mouthful of tomato never gets old.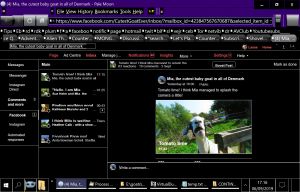 6/9 2019
—
.
I will never forgive the American voters for the fact that I know who Eric is.
7/9 2019
—
.
Goat mugging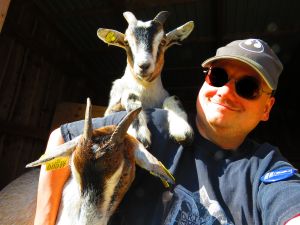 7/9 2019
—
.
Today will be a good day. Here's Magnethe from 2009.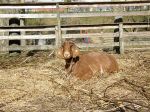 7/9 2019
—
.
Milo likes to sit on the bench. But when uncle sits on the bench then Mia demands to be with him. So this photo is Milo in the process of getting up and out the way before Mia forces the issue. Pick your fights, and uncle's pockets, Milo.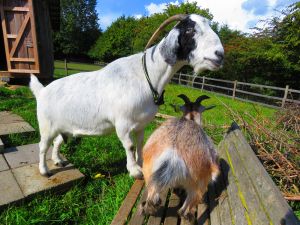 7/9 2019
—
.
And here's my next profile pic for a dating site.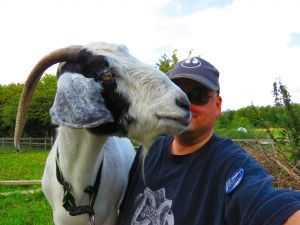 7/9 2019
—
.
Today will be a good day. Happy Funday everyone.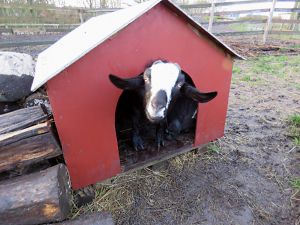 8/9 2019
—
.
I am not feeling super great mentally. So if I'm being more quiet than usual that's why. Or if I'm being louder than usual that's why. Or if I'm being the exact same as always that's why.
I'll try to get back on goat track.
8/9 2019
—
.
Think Lily thoughts.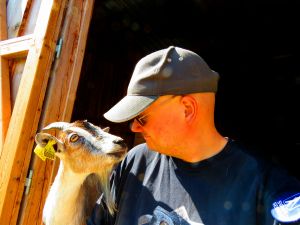 8/9 2019
—
.
Why do treats suddenly appear, every time you are near?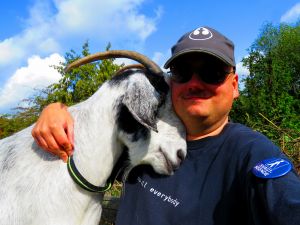 8/9 2019
—
.
goats on the hill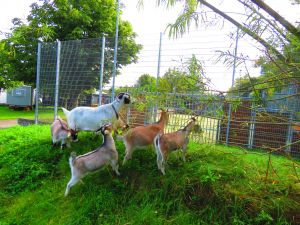 8/9 2019
—
.
.
—
That's all for now.