Today will be a good day. Happy Mio Monday everyone.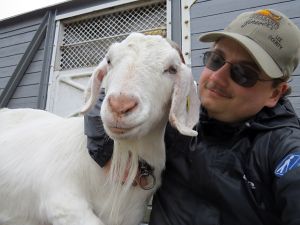 9/12 2019
—
.
"I want to enter my lair and sleep upon my hoard until the age of man expires"
You and me both, dragon from Rick and Morty. You and me both.
9/12 2019
—
.
goatlog

9/12 2019
—
.
I dreamt that I went through a portal that took me back through time and space and I met myself as a crying infant.
9/12 2019
—
.
Everyone should just start walking around and talking like they're on a TV show and just breaking the 4th wall.
Till the next episode, then
9/12 2019
—
.
Well, time to start decorating my christmas depression.
10/12 2019
—
.
Today will be a good day. HappY Yogi Day everyone.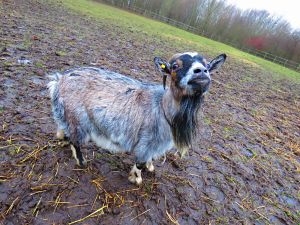 10/12 2019
—
.
Good goat times today. So good to be back with the flock. Even if I'm not feeling 💯 percent. But it's alwaya better with goats.
Zero degrees. That's cold. Frosted grass. Not much to eat. But hey, thin branches are kinda like breadsticks. I wish it was spring
I hope you're all doing your best to advance global warming. We can do it.
10/12 2019
—
.
Frosty, but at least we got some sun.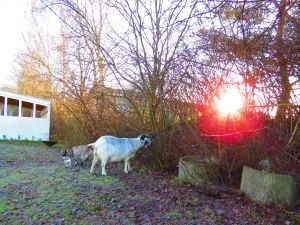 10/12 2019
—
.
There's something about the Twin Peaks theme bassline that just melts into my soul. Like my bones are vibrating and liquid sunshine flows around in my veins. Like I'm phasing in and out of existence, drowning in marshmallow clouds. Like all the world's static just suddenly flips into sync, into a perfect tone.
10/12 2019
—
.
Nuller in his safe space.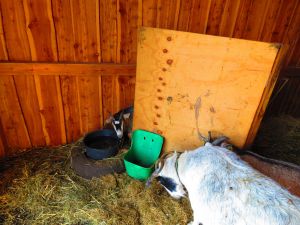 10/12 2019
—
.
For some reason Facebook has stopped giving me notifications about people's birthdays. I have no idea why. Apologies to all the people I have or am going to not wish a happy birthday. I can barely remember the birthdays of my literal family. Without notifications I'm definilely going to miss birthdays. Sorry.
Also sorry if I'm missng other important events or posts. I am not feeling so great in the head and I am two bearclaws away from hibernation at any given time.
I feel like my candle's burnt down to near the base and I'm about to go out or set the house on fire.
Thanks for beings friends. I hope you know I appreciate it even if skeleton in a fancy sout with a glued on moustache made of cat hair that I collected from the feline convention around the corner.
Wait did I say that out lou
10/12 2019
—
.
Today will be a good day. Happy Hump Day everyone.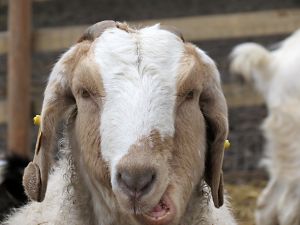 11/12 2019
—
.
Had some excellently weird dreams, including partly lucidity. In one I was chasing a rolling ball down streets and I came upon Weezer for some reason playing a live conert in the middle of the street with no one wayching, and the lead singer was wearing a shirt that said "GAME OVER" in the font used in the old Alien Breed games. Deep cut, man. Deep cut.
11/12 2019
—
.
I got soup!
Big thank yous to my mom and pop for making and delivering a potful. I am very thankful. Nothing better on a cold, dark day than a hot soup injection. That should keep me going for a few days.
11/12 2019
—
.
Hello from the other side.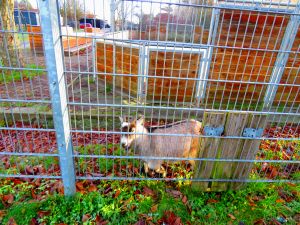 11/12 2019
—
.
Today will be a good day. Here's Peanut from 2015.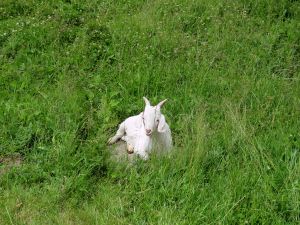 12/12 2019
—
.
Good goat times today. Wasn't easy making it out, though. After being out sick I guess I didn't stretch well enough on my first day back. My legs were all forked up this morning. And I felt a bit crummy. I just wanted to get back to bed. But I also really needed more goat time. So I forced myself out. And I'm glad I did. It's always worth it. Temperatures were a couple of degrees above freezing, just a little but it helped. And the goating was good. Just calms the storm in my head to be with them. And the physical pains don't even register. We had some cute enounters with visitors today too. Especially one mother with her little boy. He was very excited to see the goats. The mother told me "he didn't even want to go out this morning until I promised him we could go see the goats". Hey, it's a mini me! Although he kept calling Mia a sheep. Well, she is big and white but… I wouldn't say that to her face. Don't use the S word around goats.
I also managed to keep Milo from mauling him. It's funny, if I just keep petting him then he doesn't go berserk on kids. So me and the mini-me kid were both petting him and he behaved himself.
There was also a little circus outbreak. Everyone started running around like crazy, especially the newbies. Everyone got so worked up that Milo and Sky were both actually butting heads with Sassy. They usually still just run away from her. But today everyone was just in a fit. Maybe thet felt the need to entertain me to make sure I don't stay home. It works!
12/12 2019
—
.
Here's today's goat butt parade.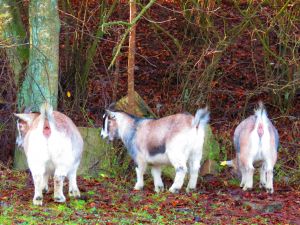 12/12 2019
—
.
Enjoy your anti-abortion and pro-gun laws. While the Trumps defile your country, sin and shit on your religion, ruin the environmet, slaughter endangered animals for fun and make you the laughing stock of the rest of the world.
Oh yeah, and don't forget to mock a Swedish kid who's pretty annoying what with trying to make the world better and stupid snowflake shit like that.
Tell me again how big a percentage of Republicans think Trump is a better president than Abraham Lincoln?
53% was it?
https://www.washingtonpost.com/politics/2019/12/11/donald-trump-jr-got-approval-hunt-an-endangered-days-after-he-killed-it/
12/12 2019
—
.
Snuh?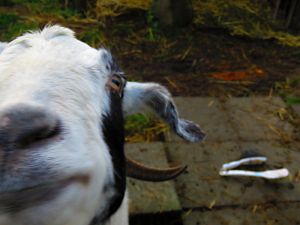 12/12 2019
—
.
Alrighty then. I'm going to retire to the dreamscape. My body feels like I've ran into a cartoon brick wall. Some day I'll get that road runner.
12/12 2019
—
.
Today will be a good day. Here's Vanilje from 2006.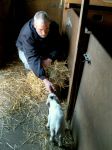 13/12 2019
—
.
goatlog

13/12 2019
—
.
Please do not poke my tummy, soup will come out of my ears
13/12 2019
—
.
Movie pitch: Kevin McAllister (played by current age Macauley Culkin ofcourse) tries to break into a house where the retired and rehabilitated wet bandits live and they have to set up traps to defend their houset etc.
13/12 2019
—
.
"It's not fair that I'm being Impeached when I've done absolutely nothing wrong! The Radical Left, Do Nothing Democrats have become the Party of Hate. They are so bad for our Country!"
– Actual statement by an actual President of an actual superpower.
If you woke up a guy who'd been in a coma for 5 years and told him the president of the united states of america wrote that on twitter he'd say "fuck off twat, the president of america is not on twitter".
Then you'd show him the twitter account and he'd beg you to put him back in a fucking coma.
What a fucking embarrassment. And I'd feel the exact same way if it was a democrat. Or a denmarkian. A world leader shouldn't be tweeting like a fucking fifth grader.
But what do you expect when you elect a guy who says stupid shit and when confronted goes "I don't know, I saw it on the internet". Presidents shouldn't get their fucking information from the internet.
God damn mudfucker.
13412 2019
—
.
Sky also can't believe the human just said that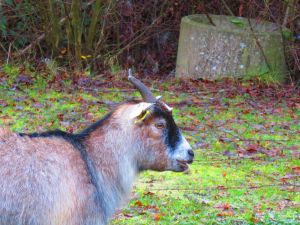 14/12 2019
—
.
Today will be a good day. Here's Bob from 2013.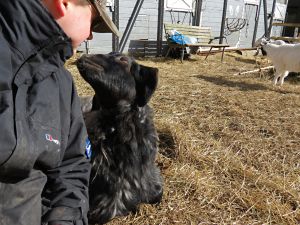 14/12 2019
—
.
Am I cooking up a pot of soup at 9:40 am? Haha, that's a funny question. Hey, have I ever shown you my collection of vintage Van Gogh replicas? They're right over here, next to my cloth dipped in chloroform..
14/12 2019
—
.
Mouse droid! X-Wings! Clancy Brown as a Devaronian!
I wonder if The Mandalorian will wrap up the baby Yoda story arc in season one… we're running out of time.
14/12 2019
—
.
I know Christmas is a hard time for a lot of people,
but on the other hand it's an excuse to watch Scrooged and The Nightmare Before Christmas and old SNL christmas sketches. The trick to dealing with reality is avoiding it at all costs.
Okay, I'm off to volunteer for Space Force.
14/12 2019
—
.
Sky is definitely allowed in the flowerbed. I assume.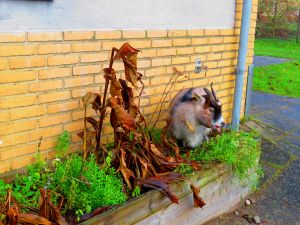 14/12 2019
—
.
Today will be a good day. Happy Funday everyone.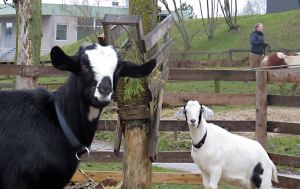 15/12 2019
—
.
My dad had a fall yesterday. He had to go to the hospital, fearing a broken hip. Apparently nothing broken, nothing requiring surgery, though. But he's in a lot of pain. I can't remember if I updated you about his hip, I wrote about it maybe a month or so ago that he was having problems and we thought he might need a hip replacement. I turned out he had "hold i ryggen" which google translates to "a pain in the back". That seems very unspecific.. but something with the back. A strained back? Anyway, something that might take motnhs to get better but wouldn't require surgery or hip replacement.
So hopefully he'll be okay, in time. Not so good right now, of course. He does so much for not just me, but my brother too. We're lucky to have had so much help wthrough all our health problems.
Get well, dad.
15/12 2019
—
.
Thanks everyone for the good wishes for my dad. I'll let you know if there are any news. I guess this year I'll have to be the santa, can't have him carrying that heavy sack of presents when he's got back and hip problems.
(actually, we don't do much christmassing, other than the dinner and risalamande. We haven't had a tree in I don't know, 10 years or more).
But anyway. Thank you all.
Also, I dreamt about kittens. Three or four. Climbing around on me. Sigh. I could use some kittens or baby goats or something. Come on santa, bring me baby animals.
15/12 2019
—
.
Nom nom, gimme dat raisin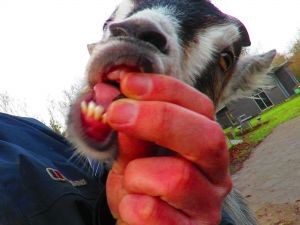 15/12 2019
—
.
.
—
That's all for now.