Today will be a good day. HappY Mio Monday everyone.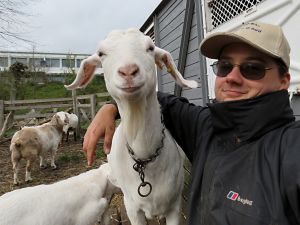 23/12 2019
—
.
It's time to put on the last two episodes of Mr Robot.
See you on the other side, friend. If I make it.
23/12 2019
—
.
Mr Robot finale managed to out-trip Twin Peaks and make me cry. 10/10
23/12 2019
—
.
You change the world by being part of it. You make it beautiful by seeing its beauty. You make it funny by laughing at it.
Sometimes I don't have a lot of hope for the world. But I hope… the amassed weight of our existence will pull it into a better orbit some day.
We're all just pigs in the shit.
Oink oink, motherfuckers.

23/12 2019
—
.
"One day, from his sniper nest, Gallagher shot a girl in a flower-print hijab who was walking w/ other girls on the riverbank. She dropped, clutching her stomach, & the other girls dragged her away".
Pardoned by Trump. I still don't understand why any president, be it Obama or Trump, should have the power to pardon people? I just don't understand, why should a President be above the law and have that kind of power?
It's one thing if you pardon someone for.. I don't know, charitable reasons. Like if their crime was something that used to be a crime but is now no longer considered a crime. Or for social reasons, like a grandmother who has served many years. Stuff like that. But this? Contemporary crimes with no extenuating circumstances?
I just. Don't. Understand. And that's not even going into the idea of a president being able to pardon people who did something that benefitted the president, or to gather goodwill from certain factions. Like I wonder if the good conservatie veterans are happy that this sniper got pardoned? If I were military I'd want people like that fucking locked up because they make soldiers look bad. But I can imagine some people twiting this into 'Trump supports us military' bla bla.
Like cops looking out for cops, even though you'd think good cops would want the bad cops off streets. I don't know. Ugh. Humans 23/12 2019
—
.
Stick with goats, Lasse.


23/12 2019
—
.
Alrightey then. I'm going to call it a day.
*points* it's a day!
Tomorrow is Christmas in Denmark. So while I go sleep I expect you to listen to the best Danish Christmas song of all time on repeat until I'm back. There WILL be a test, so make sure you listen to the lyrics.

23/12 2019
—
.
Today will be a good day. HappY Yogi Day eveyone.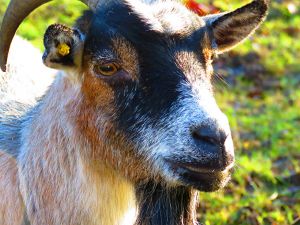 24/12 2019
—
.
Good Christmastimes today.
Back from celebrating the jolly day with the fam. Our traditional christmas pork roast. I'm not proud of it, but I'm only human. Can't give up on Christmas. Just mom and pop and bro and me. Risalamande for dessert. It was totally rigged, dad got the almond. I'm demanding a recount, pretty sure the russians hacked it. Of course, even though my brother and I are almost 80 years combined, we're still the kids. So we got the marzipan prizes. That's how we roll.
Got to sit in a comfy chair and watch the Disney christmas show too. And then I spent some time with dad, taking their DVD player apart. A disc was stuck in the system. We managed to take it apart and get the disc out, but the player is still malfunctioning. Maybe we can get santa to do an emergency delivery, I think they'll need a new one.
Hope you're all having a happy holiday out there, whether you're celebrating today, tomorrow, or not at all or something different. Hope you get something nice under the mistletoe.
(pictured: some elf from 2013)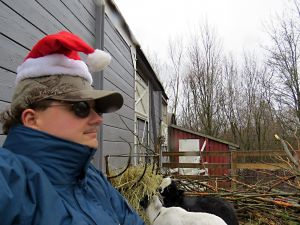 24/12 2019
—
.
For the newer friends who don't know what the fam looks like, here we are from 2017. I should get a new photo taken. Maybe next christmas.
That's me on the left, if you couldn't tell by the hat.
Bill Murray Christmas yall.
24/12 2019
—
.
Today will be a good day. Happy Hump Day and merry Christmas where it applies everyone.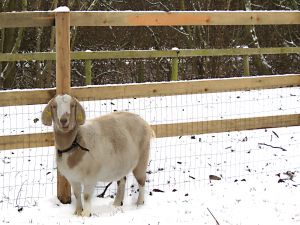 25/12 2019
—
.
Hope you're enjyong the holidays

25/12 2019
—
.
Thank you so much CarolAnn Ellis for the wonderful package! The photos don't do the cards justice, they are so very beautiful. That albino deer is so neat! Merry Christmas!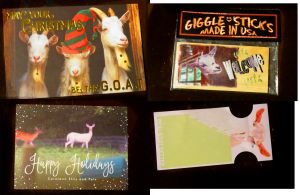 25/12 2019
—
.
I know not everyone will agree but I still put forth that American comedy peaked with this.

25/12 2019
—
.
I'm switching off for today. Enjoy your chrishmash if you're celebrating today. Otherwise just enjoy the arbritrary rotation of the space rock you're stuck on.
Hope everyone is well out there. Thank you everyone who's expressed seasonal greetings, in the mail or over the electronic pathways. I appreciate that there are people who care about me, in some little way. My mental state has been downwards trending for the last few months, but as long as there are people who care about me then I can't be allowed to not care about me. Add two cups of water and stir until frothy. Allow 2-4 weeks for delivery and please submit your contact information after the beep. Your call is very important to us. Our operatives are standing by to receive your orders. As seen on TV, if you buy it and place the box on top of your TV. Don't forget to unplug during extended periods of inaactvity. There may be a slight discolouring around the edges, this is not a sign of the apocalypse. We are aware of the problem and are working overtime to fix it. This concludes today's broadcast. Now please stand for the national anthem.
25/12 2019
—
.
Today will be a good day. Here's Thor from 2008.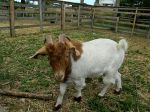 26/12 2019
—
.
My favourite pizza place is closed. Probably won't be open again until next year. Thoughts and prayers, plz.
When I look at the txt file where I keep track of my budget and purchases, I can see that in December I have only spent about half as much on pizza as I usually do. Because soup. I hope they haven't gone bankrupt without my business.
26/12 2019
—
.
Remember, this is the time to be naughty. You've got your presents for this year. Santa can't start his new lis until 2020 begins. You're homefree. It's basically The Purge.
26/12 2019
—
.
Today will be a good day. Here's a goat siesta from 2014, with Herman, Palle, Mia, Mio and Kamel.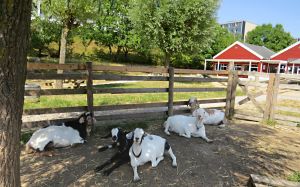 27/12 2019
—
.
Good goat times today. There must have been some serious mistletoe in the air or something, because things got very goofy. Lily and Sassy were doing their best impressions of bucks. Especially Lily. Blubbering like those comedy videos you see on the youtube. I can't remember ever seeing Lily do that before. Certainly not like today. She would't shut up. It was hard not to laugh. Sometimes she'd start doing her regular bleat and then halfway through it would turn into a buckish blubber. There was a good deal of tail wagging and some humping headbutting too. So I imagine it's a hormone thing. But I've never seen them like that. Nuller seemed a little puzzled too. 'What's up with my does?!'.
I don't know man. Maybe someone fed them weed instead of weeds.
We had some nice visitors stopping by, several adults with kids who got to pet the goats. One boy got a little Milo encounter. His grandma was nice about it and just laughed, and protected her grandkid from the goat devil. "He must be a little morning grumpy" she explained to her grandon. Hah yeah. He's a little morning grumpy all day long. But it was all fine and in good fun.
27/12 2019
—
.
Weirdos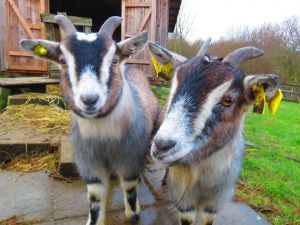 27/12 2019
—
.
Looks like the workers are gone. Those mobile homes they had put there on the grass are gone at least. Maybe they just left for the holidays? Or maybe they're done with the wor they were doing. We'll see I guess. But it opened up some previously untouched patches of grass for the goats to go through.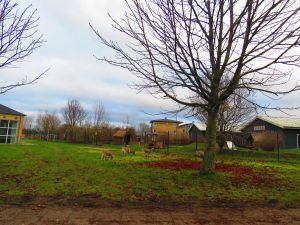 27/12 2019
—
.
Goat butt parade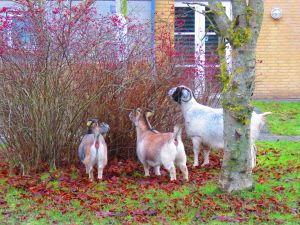 27/12 2019
—
.
Milo's mugshot.
Yeah, don't try to pull that "I'm just a goofy, innocent goat" look. We know the truth.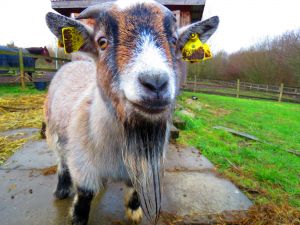 27/12 2019
—
.
Today will be a good day. Here's 3B from 2006, with a very young me. Back when I looekd 13 instead of 15.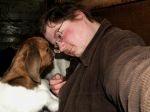 28/12 2019
—
.
Thumbs up: My favourite pizza place is surprisngly open today!
Thumbs down: Constant fireworks and loud music. I don't mean to be a grinch but holidays suck and humans are dumb, bah humbug.
Hope the pizza comes soon.
28/12 2019
—
.
I love you all, but Keiko. Keiko is like the topping on the pizza. You're the top, Keiko!
28/12 2019
—
.
Finished the last episode of The Mandalorian. Kudos to Favreau, he put together a great show. I do wish some of the storytelling had been a little more.. complex. But all in all, a great ride. So much fun, great action, great fan service and a baby Yoda that took everyone by storm. And not just baby Yoda, I forking loved Kuuil and the IG unit. Nurse droid, ahaha. I loved the way he moved.
So yeah, super satisfying. Star Wars isn't necessarily an easy thing to do these days.. It can be very divisive. But i've seen almost exclusively positive reactions to this show.
Bring on season 2. No please, do it, do it now.
"do the magic hands thing"
28/12 2019
—
.
Today will be a good day. Happy Funday everyone.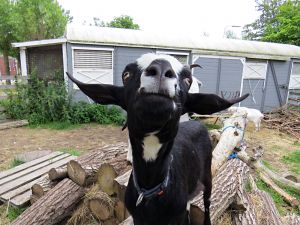 29/12 2019
—
.
goatlog

29/12 2019
—
.
Here's Maureen and Black Beauty. I am not sure whomst is whomst. Maybe BB on the left?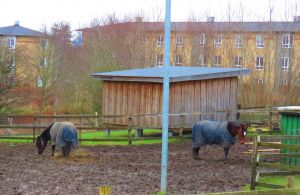 29/12 2019
—
.
Update from my dad: he's doing much better. Sounds like the after effects of his fall(s) are pretty much gone. He's still got some physical issue, but it sounded like he was much improved. So that's good.
…oh and I can't remember if I have mentioned it or not, but I think my brother is doing well too. Last I heard his test scores were as good as we'd want them to be. So that's good too.
29/12 2019
—
.
I'm going to turn off the machines for tonight. Not gonna lie, I'm ready for the year to be over. One day at a time.
Thanks everyone for the family well wishes. Our wells run deep. Well well well. Over and out.
29/12 2019
—
.
.
—
That's all for now.